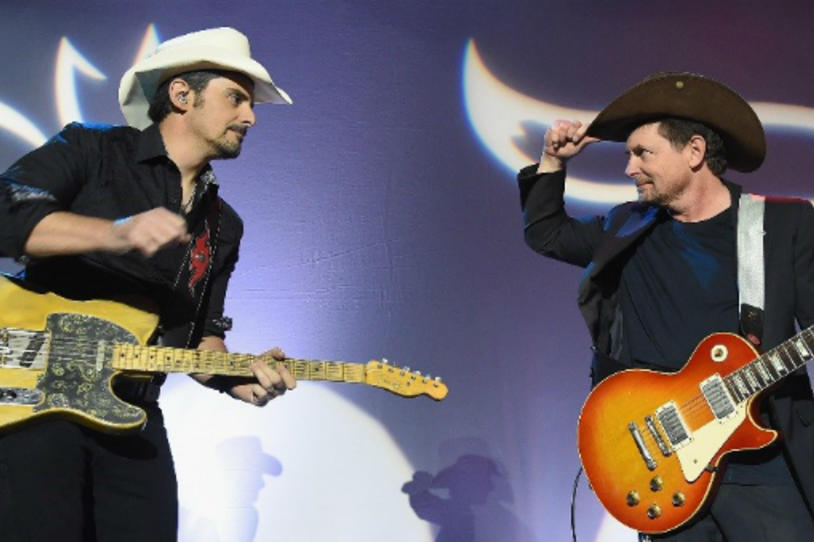 Under twinkling ballroom lights in the New York Hilton (and with a few cowboy hats), The Michael J. Fox Foundation brought together nearly 1,000 guests on Saturday, November 11, for its annual benefit gala, "A Funny Thing Happened on the Way to Cure Parkinson's." This year, thanks to the generosity of friends and supporters, the #FoxGala raised more than $5.2 million to support Parkinson's research.
Host Denis Leary and comedians Bill Burr and Eugene Mirman supplied the laughs and entertained guests dressed in their best "foxy" attire. Jane Pauley introduced one of the most moving moments of the evening -- a video tribute to Jimmy Choi, who has completed 14 marathons since his Parkinson's diagnosis at age 27 and recently appeared on NBC's "American Ninja Warrior."
Before the night's musical headliner (and her husband) took the stage, Kimberly Williams-Paisley honored her mother, the late Linda Williams who worked at the Foundation in its early years. As Brad Paisley began his set, guests jumped to their feet to get up close with the talented musician who played a few songs before closing out the night with a grand finale -- a "Johnny B. Goode" duet with Michael J. Fox.
The star-studded event hosted many of Michael's friends, including Benefit Chairs Seth and Lauren Rogen and George Stephanopoulos and Ali Wentworth, along with Joan Jett, Rachael Ray, Akbar Gbajabiamila, Susie Essman and Richard Kind. View the gallery below to get an inside look at the event.
As much as the night is about raising money, it's also about celebrating progress and tipping a hat to the Parkinson's community. During an interview on the red carpet, Michael reflected on becoming a name and face for Parkinson's disease:
"It's nothing I ever aspired to do. Perhaps people who don't have Parkinson's, when they're dealing with someone that does have Parkinson's, can say, 'Oh, I know about this from Michael Fox.'" Michael added, "It's not a job you apply for, but it's one you take on with a big deal of respect and a feeling of purpose."
Special thanks to the Foundation Board of Directors, who cover all costs associated with the event so that every penny raised will go directly to funding the most promising programs for a cure. To date, "Funny Thing" has raised more than $75 million.