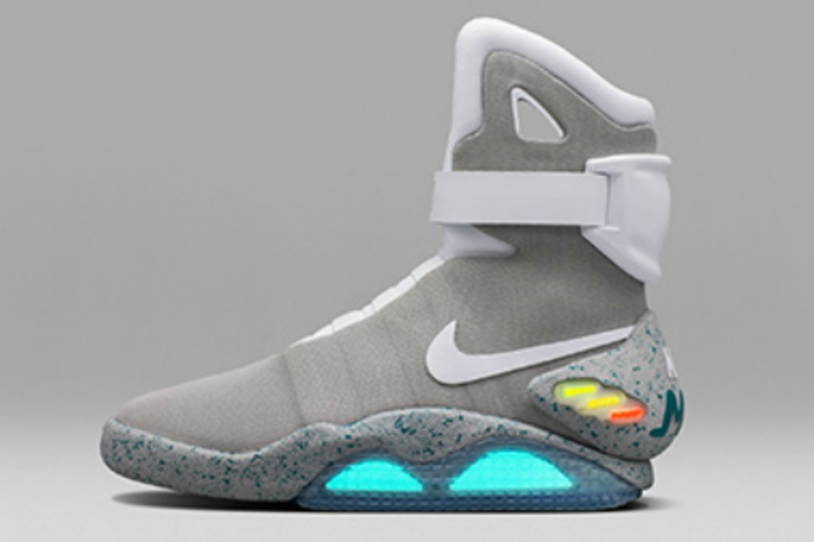 The promise of the future has been shaped by advances in technology more than any other force. Almost 30 years ago, Nike inspired a vision of cutting-edge footwear -- a sneaker that can automatically tighten or loosen to fit the wearer. The Nike Mag, famously worn on-screen by Michael J. Fox, quickly became a cultural icon. Since its inception in 2000, The Michael J. Fox Foundation (MJFF) has funded the most groundbreaking research approaches to end Parkinson's disease, which affects more than 5 million people worldwide and has no cure.
Today, Nike and MJFF announced the release of the 2016 Nike Mag and the opportunity to own a pair while helping fuel critical Parkinson's research. An online draw makes these limited-edition pairs available for only $10 a ticket, with all proceeds going directly to the Foundation.
The majority of the shoes are available to residents of the United States and Canada through a digital draw via nike.com/mag. There is no limit to the number of tickets or a minimum to enter (above one ticket). The Draw will run through Tuesday, October 11. Winners will be notified Monday, October 17.
The remaining pairs will be auctioned live in Hong Kong on October 11, London on October 14 and 17 and at MJFF's benefit gala A Funny Thing Happened on the Way to Cure Parkinson's on November 12 in New York.
Watch this video for more about the global impact of the Nike Mag and MJFF's work:
Nike first partnered with MJFF in 2011 to auction a version of the shoe without the self-lacing technology. The auction itself raised more than $4.7 million in 10 days: A match through the Brin Wojcicki Challenge doubled the total to $10 million -- 100 percent of which also went straight to fund critical Parkinson's research. Last year, Nike previewed the 2016 Mag when they hand-delivered the first adaptive pair to Michael J. Fox.

This partnership has been a powerful driver of Parkinson's research: Among neurological disorders, Parkinson's disease is second only to Alzheimer's in prevalence. Its motor symptoms typically progress from mild tremors to serious physical disability and its non-movement-related symptoms include depression, cognitive impairment, pain, fatigue and digestive issues. Current treatments mask some symptoms but lose effectiveness over time and do not slow disease progression.

Join the conversation about how the futuristic shoes are helping speed vital research on MJFF's Facebook, Twitter and here on our blog. Enter to win your chance to get a hold of these limited-edition shoes and help speed the Foundation's efforts toward a cure.