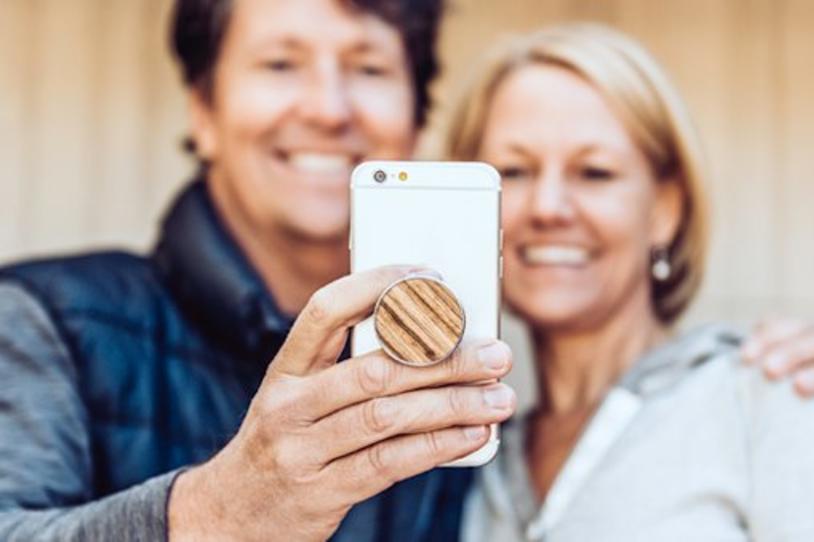 Mobile devices, already a staple in our daily life, are frequently becoming tools in the management of our personal health care.
With Parkinson's disease (PD), motor symptoms such as tremor, rigid muscles or unsteadiness can pose challenges for an individual using a smartphone or tablet to be the family photographer, to send a text message, or to help track medication. These limitations may make people self-conscious and lead to isolation, which studies have shown exacerbates Parkinson's symptoms and negatively impacts wellness.
One company wants to make it easier for people living with Parkinson's disease to call loved ones, order take out or even dial 911. PopSockets is a mobile accessory that helps to transform devices by offering a secure grip, built in stand, and easy mounting options.
In October the company announced that its "DoGood" initiative will focus on Parkinson's awareness and a portion of proceeds campaign. Through the end of the year, PopSockets will be donating 10 percent of their net online sales evenly across four different Parkinson's organizations - The Michael J. Fox Foundation (MJFF), Davis Phinney Foundation, Dance for PD and Rock Steady Boxing.
As a Team Fox fundraiser, 100 percent of the proceeds received will go straight to MJFF's work to accelerate a cure for PD.
"We've received heartwarming emails from people who have a hard time comfortably using their mobile devices due to health issues like Parkinson's disease. Hearing these stories directly from PD patients was a 'eureka' moment for us, and we knew we had to do more." said David Barnett, PopSockets founder and CEO.
To learn more about the campaign and how to share your personal story about the role PopSockets has played in your daily life visit the DoGood page on the PopSockets website.