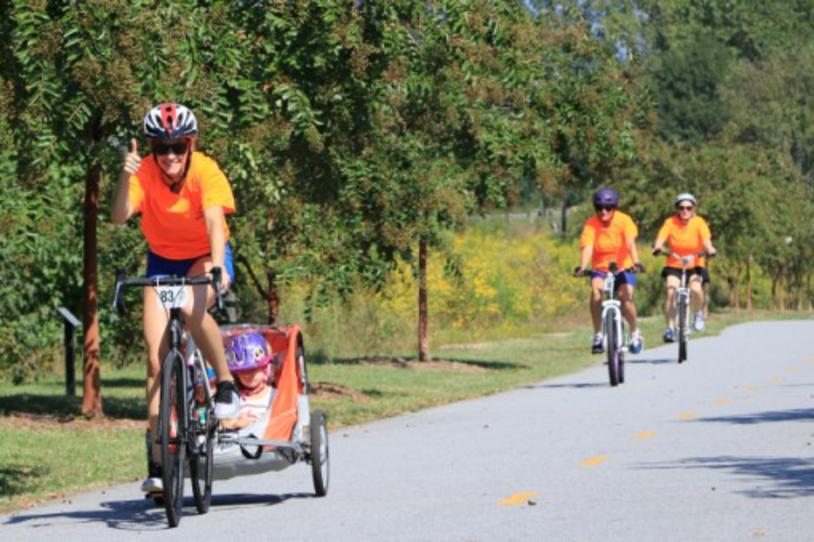 April is upon us! That means the start of  Parkinson's Awareness Month. In much of the country, it also means warmer temperatures, sunshine and the opportunity to spend as much time as possible outside. As you start to make summer plans, just remember there's no better time to turn your outdoor hobby into a fundraiser for Parkinson's research.

This month, register for a local athletic event, a Fox Trot 5K, or a Tour de Fox cycling event and help us get closer to the ultimate goal of a cure. Any outdoor activity can be turned into a fundraiser -- from extreme to moderate, solo to community-based. If you need a little inspiration, check out a few popular options below to see how our community is helping to make April a million dollar month.
Start Trotting
With a growing number of Foundation hosted Fox Trot 5K run/walk events popping up around the country, there could be one happening in your backyard! Join the Orlando Fox Trot 5K Run/Walk on May 19 in Orlando, FL or catch us in New York City on August 9 for the fourth annual New York City Fox Trot 5K in Riverside Park. Can't find one nearby? Not a problem! You can always choose any race in your community and fundraise through Team Fox, or select from the list of our athletic events and community hosted 5K events.  Go the extra mile - literally!
Hop on your Bike
There are plenty of ways to get involved with the Foundation through cycling this year - so grab a helmet and hop on your bike! The Tour de Fox Cycling Series is back after a successful second year, and with two brand new events for 2018! Along with hitting Tour stops in Vancouver, Sonoma County, and Greenville,SC; the Tour will be heading to Southlake, TX and Madison, NJ.
Along with Tour events, plan to ride with our friends in Denver, CO for Pedaling 4 Parkinson's on June 16 or be a part of the largest independent Team Fox event by joining the eleventh annual New England Parkinson's Ride in Old Orchard Beach, Maine on September 8. All events host rides of different distances and difficulty - so there's something for everyone!
Hit the Water
Nothing says summer like being on the water. Though water sports can admittedly bring a more challenging logistical element to a fundraising event, it doesn't mean there aren't some great ideas out there. 
You can also make a splash by participating in a triathlon - swim, bike and run your way closer to a cure for Parkinson's! Experience the Escape from Alcatraz Triathlon as part of our Team Fox team on June 3 or find a race that fits your schedule.
No matter what activities you enjoy, make the most of your outdoor hobbies and get involved today!