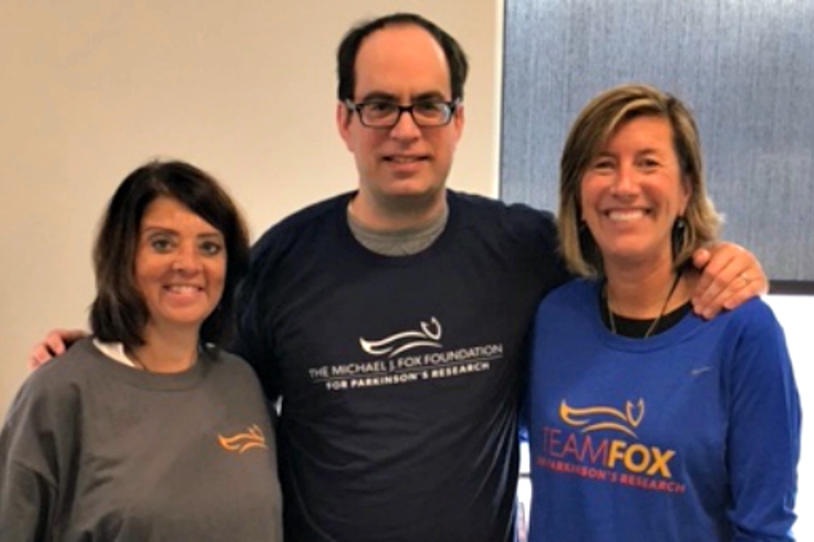 When Dan Kinel was diagnosed with young-onset Parkinson's disease several years ago in his early forties, the father of two and lawyer knew life was about to change.
While some aspects of the diagnosis have been difficult, there have also been silver linings -- moments where he has been buoyed by others' support and generosity.
Dan fortuitously connected with The Michael J. Fox Foundation (MJFF) only six months after his diagnosis. While on a weekend getaway in New York City, he discovered MJFF's first clinical trial fair. He began participating in studies almost immediately and continues to do so today. "Sometimes I just do a couple of hours or even just go between meetings," he said. "Whatever I can, I try to do."
He's done three stints as a panelist for Partners in Parkinson's (an all-day symposia for patients and caregivers) and is a Fox Trial Finder Ambassador who helps others living with PD be "matched" with trials through MJFF's online tool. Dan also serves on the board of the National Parkinson's Foundation of Greater Rochester.
His openness and dedication to speeding Parkinson's research have inspired those around him. His law firm, wanting a way to support Dan, held a silent auction in early December. Dubbed "A Fun Way to Do Some Good," all proceeds benefited the Foundation's mission -- and raised $10,060.
"We wanted to do something fun that everyone in the office could participate in," said Rhonda Noto, who organized the event with colleague Elizabeth Hofmeister.
Almost every employee donated, while Managing Partner Craig Wittlin rallied the crowd, and 95 items were auctioned. "There was so much camaraderie," said Rhonda, reflecting on both the planning and the actual event.
Dan's family also has taken up the cause: For the past three years, his sons, Gil and Oren, have held a bake sale at their synagogue complete with a Back to the Future-themed donation box and information on MJFF. "It's an amazing thing to watch," said Dan. "It allows them to do something positive and empowering, and feel like they're making a real difference."
And he credits his wife, Ellen, a psychologist at the University of Rochester Medical Center, with much of his strength. "She's made a lot of sacrifices to allow me to continue my career," he said. "She's been the rock and support behind everything I do."
Dan is beyond grateful for the support of his work team and his home team.
"They really do all the work," he said, jokingly adding, "All I had to do was get Parkinson's."
Click here to learn about the many ways you, your family and your colleagues can get invovled to help speed a cure for Parkinson's.
--
Laura Amann is an award-winning freelance writer who contributes personal stories about living with Parkinson's to the MJFF blog.