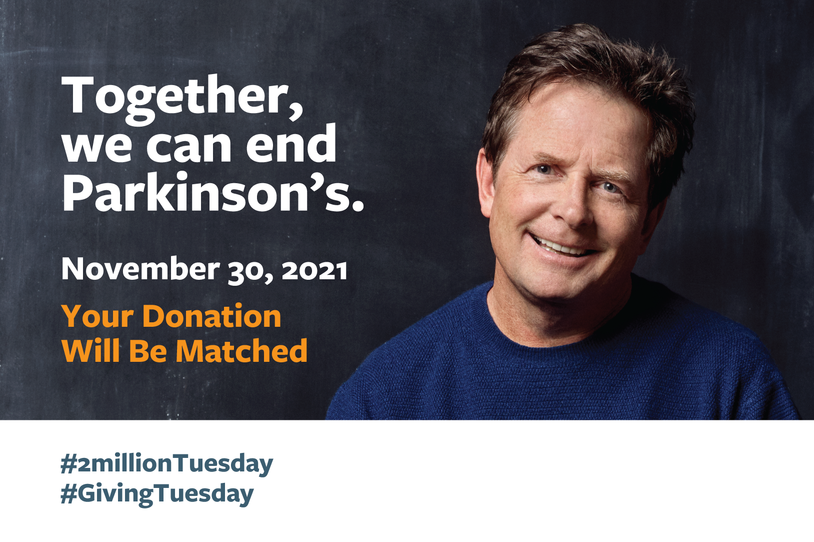 Today is Giving Tuesday and all donations to the Foundation will be matched, up to $2 million.
Have you heard of Giving Tuesday? It's a global day of giving to support thousands of charitable organizations and causes worldwide. Falling on the first Tuesday after Thanksgiving — and on the heels of Black Friday and Cyber Monday — Giving Tuesday is an opportunity to unite as a community toward our common goal of curing Parkinson's.
This year, The Michael J. Fox Foundation is thrilled to announce that every donation on Giving Tuesday will be matched, up to $2 million. The match is made possible through the generosity of seven dedicated families who, like you, have been touched by Parkinson's and want to help end the disease for good:
Christine and Sonny Whelen (Lyme, Connecticut)
Dream Weaver Foundation (Port Ludlow, Washington)
Sarah and Bill Loughborough (Plano, Texas)
The Eddie and Jo Allison Smith Family Foundation (Greenville, North Carolina)
The Stan & Joyce Rawley Foundation (Houston, Texas)
The Silverberg Family Foundation (Nashville, Tennessee)
William and Margaret Fern Holmes Foundation (Orange, California)
The Michael J. Fox Foundation is grateful to these families for raising the bar on what we can achieve as a community. With the $2 million match, whether you donate online, through the mail, or by phone, your Giving Tuesday gift will be doubled and deployed as quickly as possible.
The giving season is a critical time for The Michael J. Fox Foundation to boost philanthropic capital for its research programs. We rely on you to help us reach our ambitious goals on Giving Tuesday and through the end of the year. Please join us today, November 30, to turn hoping for a cure into finding one. Donate now.