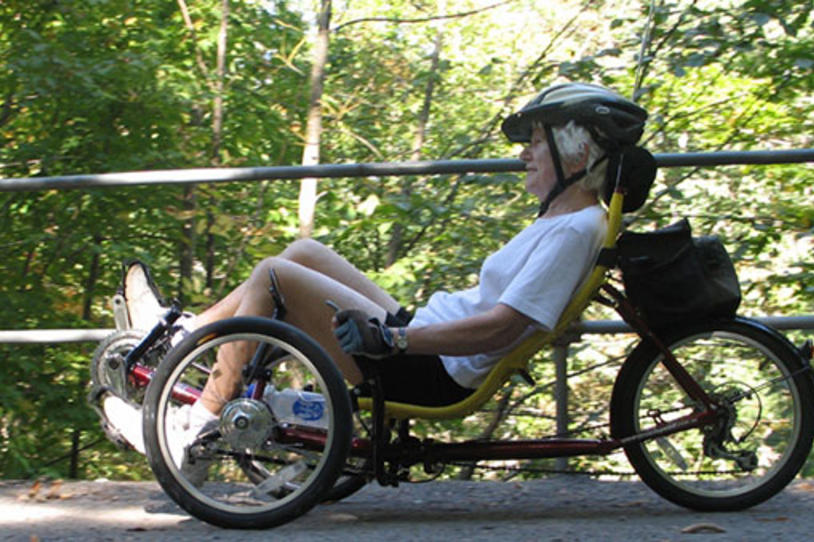 On September 8 in Old Orchard Beach, Maine, over 430 riders took part in the New England Parkinson's Ride. Hosted for a fifth year by Team Fox member Edna Woods, this event raised almost $150,000 for The Michael J. Fox Foundation. Riders chose from the 10-mile, 30-mile, 50-mile or 100-mile routes.
Among them on the 10-mile route was 88-year-old Kay Knapschaefer, who was diagnosed with Parkinson's eight years ago. She traveled from her nursing home near Manchester, New Hampshire, where she now resides, to participate. She wasn't alone on this ride; 14 other participants have Parkinson's, including Edna's son, Chris. Edna created the ride to honor Chris, an avid cyclist, and to bring the community together to help speed a cure.
Also riding with Kay was her husband, Dale, and their two daughters. For decades Kay and Dale were active hikers and cyclists, whose travels included many bike trips. One of their last cycling tours was in Alaska, when Kay was 78 and Dale 75.
As Kay's Parkinson's progressed, balance became more of an issue. To enable her to continue with her love of biking, and to help manage her PD, she began using a recumbent tricycle five years ago. Within the last year, she moved to a nursing home, as she'd experienced several falls at home and needed more supervised care. But she and Dale cycle together on bike paths, usually with one of their daughters, twice a week. They also go on mile-long walks in a nearby park once or twice a week.
While the Knapschaefers had been aware of Team Fox for several years, they only recently learned about the New England Parkinson's Ride. Dale came across it in a bulletin for fellow cyclists. When he told Kay about it, she was so eager to participate. "She looked forward to this for months," he says. As they frequently traverse the same bike paths, she loved the change of scenery. Even though Parkinson's affects each person differently, they both enjoyed the opportunity to connect with other families dealing with the disease. They were also excited to surpass their initial fundraising goal for Team Kay, generating over $800 for MJFF's research efforts. Even more exciting: Every dollar they raise will be matched by the $50-million Brin Wojcicki Challenge.
Dale says that Edna was "amazing," and went out of her way to ensure that Kay was comfortable—even having someone follow them on a motorcycle. Edna called Kay "the star of the show." "She was pedaling with ease and waving to the crowd. We all were cheering her on to the finish line. There was barely a dry eye to be found," she says.
In addition to cycling, Kay has led an extremely active life—serving in the Coast Guard during World War II, volunteering at the local VA hospital, and hiking in the White Mountains. "It's remarkable she was so well off into her 80's," Dale says. He acknowledges it's hard for the nursing home to accommodate someone of Kay's high activity level. "So I'm especially glad she still has cycling."
Dale hopes they'll participate in the New England Parkinson's Ride again next year—and is gearing up to go even further.