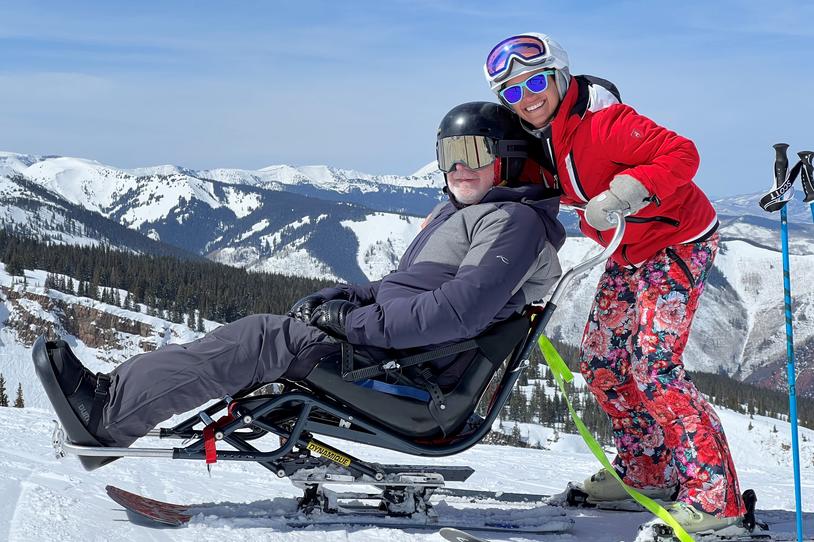 Growing up, I remember coming to Colorado to ski and snowmobile with my family, and after my father's Parkinson's diagnosis in 1997, those trips came to a halt. My Dad has always been athletic, I remember him telling me stories about amazing ski runs he did and going up the t-bar in Breckenridge with his buddy and having no clue what to do to actually ride it. 
My brother, my parents and I took our last family ski trip when I was 10 and after that, we didn't come to Colorado for a long time as a family. 
After moving to Colorado, I traded in my NYC high heels and black dresses for ski boots and athleisure. I had gotten married to my husband during COVID on top of Snowmass Mountain and dreamed of my dad being able to see where I became a Mrs. 
Fast forward a month later, I learned about Challenge Aspen — an incredible organization that helps people with disabilities from all around the world regain activities that they thought they couldn't do anymore. It was magical to watch people with one leg or without leg function go down the mountain faster than me with the biggest smiles on their faces. 
I convinced my dad to try skiing on a sit ski with one of the pros from Challenge Aspen. My entire family came in to ski with him and to see our wedding spot. 
Watching my dad go through the powder, and ski right next to my seven- and nine-year-old niece and nephew, all of us taking runs together, was a dream come true. Parkinson's often will take away people's ability to have a smile on their face, but dad's smile that day was from ear to ear, there was no hiding it. 
When we asked him if he would do it again, he responded, "How about tomorrow?" and just like that, we got another day on the mountain together, going to some of the highest points on Snowmass Mountain. 
Since then, Challenge Aspen has supported even more incredible experiences like tandem e-biking and rafting on the Roaring Fork. 
Challenge Aspen creates memorable experiences for participants and their families. Can't wait to see what we do with them next!
This blog was written by guest author, Morgan Fixel. 
---
This spring, Challenge Aspen and the Michael J. Fox Foundation are proud to team up to create adaptive opportunities for people with disabilities through the Limitless Mountain Challenge. Donations to Team Fox competitors are split 50/50 between Parkinson's research and a scholarship fund at Challenge Aspen for participants with disabilities related to Parkinson's Disease and other neurological disorders. To compete with Team Fox, or learn more about the Limitless Mountain Challenge, please visit the event page.