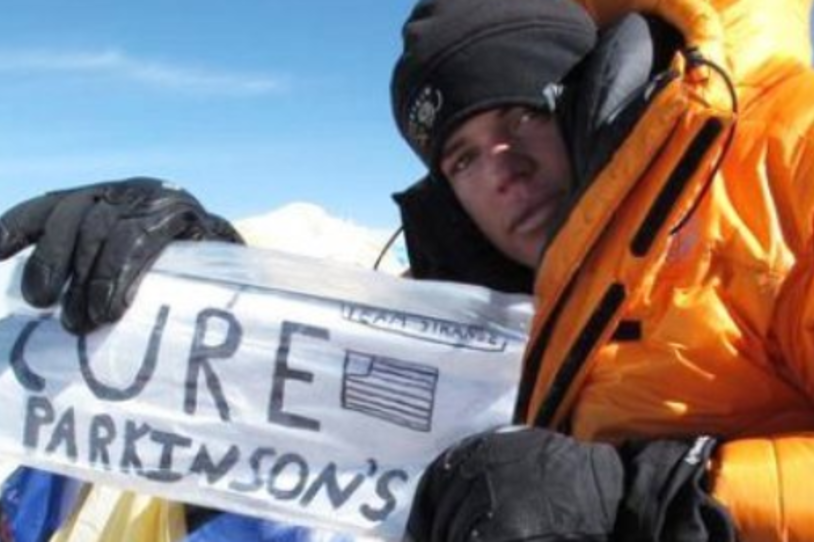 The adventure sports world lost a favorite son on October 1 when Johnny Strange, 23, was killed in a wingsuiting accident in the Swiss Alps. Even at such a young age, Johnny was an extraordinarily accomplished athlete. By 17 he successfully climbed the highest peak on all seven continents – making him the youngest person to achieve this feat. Since then, he certainly didn't slow down. From BASE jumps to wingsuit flights, big wave surfing to mountain climbing, this young man always lived his life at warp speed.
Johnny's life, though, was about more than adventure. While he clearly made a point to push his physical boundaries and live life to its extremes, there was purpose behind his actions. From creating general awareness about the scourge of global genocide to his more specific campaign to help cure Parkinson's disease (PD), Johnny built himself a platform and then used it for good.
While I never met Johnny, I had always hoped I would – one PD advocate to another. I admired his skill, his bravery and his positive voice from afar. The world of adventure sports is small, making losses like this hit close to home. This week I read something Johnny had written that made me feel like I lost a friend. Johnny wrote:
"When I get tired, I simply take a break. I sit down, stop climbing, working out, whatever. Those who suffer from Parkinson's disease climb every moment of every day. They simply do not have the luxury of taking a break. Their struggle is 24/7."
With these words, Johnny has beautifully captured why so many of us push ourselves in search of a cure. Whether it's to run a weekend 5k or to climb the world's most challenging and dangerous mountains like Johnny did, we owe it to our friends, families, and all those unable, to get out there and do something. At just 23, Johnny understood this better than anyone.  
My deepest condolences go out to Johnny's family and friends – they know first-hand what an incredible man the world has lost. Johnny's legacy will live on through his accomplishments and through those people he inspired to live for good. I know those closest to him take solace in the knowledge that he lived a life in full. In the Strange Family's own words, "although we lost him at just 23, our beloved Johnny knew the meaning of life."
The Strange Family has created a Tribute Page to celebrate the legacy and memory of Johnny, the ultimate adventurer. Please visit the page to share your well wishes and best memories of Johnny.
//-->