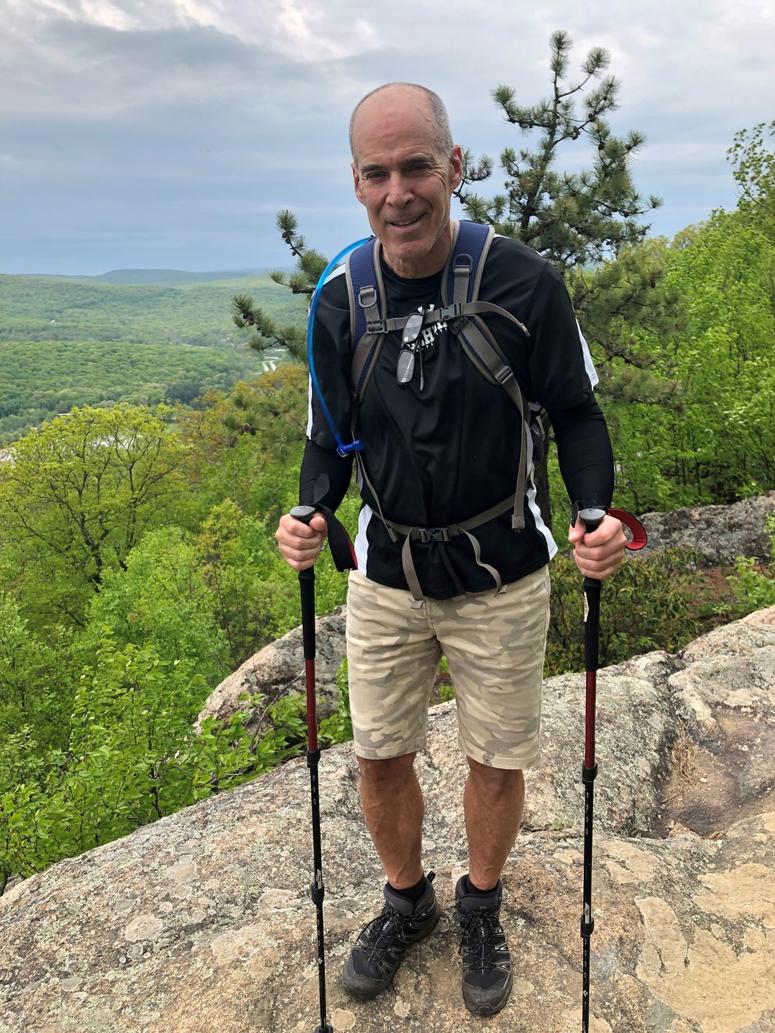 Team Fox member Lou Weinberg is Vice President and legal counsel at Madison Title Agency LLC based in New York. The father of two is an avid skier, hiker, golfer and biker living with Parkinson's.
About two years after I first noticed the subtle, almost imperceptible symptoms, I was at a charity golf outing and was randomly grouped with a neurologist. As we walked down the first fairway, he looked at me and said, "Do you know that your right arm doesn't swing? You should get that checked out." I realized then what I had feared for some time: I had Parkinson's disease (PD).
A week later I was formally diagnosed. I thought my life was over. I wanted to throw the longest pity party ever. Little did I know, it was the beginning of a wonderful new chapter of my life: my Parkinson's journey had begun!
Five years later, Parkinson's hasn't slowed me down. I would be lying if I said I wasn't scared, occasionally. But, more importantly, I have a greater and more profound appreciation for my life — past, present and especially future. I treasure the little things I used to take for granted: time spent with my kids, family and friends, a rich dark cup of coffee, a glass of wine and the beauty in nature.
After the initial shock of my diagnosis started to wear off, I educated myself on existing medications, therapies and research. It was through this process that I discovered The Michael J. Fox Foundation (MJFF). But for several years I intentionally did not want to raise money for PD research. I didn't want to be defined as the guy with PD and I especially didn't want anyone to worry about me, or treat me differently. But now I have come to terms with the fact that PD is part of who I am — and it's not going away.
I want to see new treatments come to market for the more than 6 million people living with PD worldwide — and for myself — so I can continue to thrive, and watch my kids and grandkids grow up. And it only seems fair that if I want the benefits of advances in the treatment of the disease, I have a responsibility to do my part in the most effective way I can. One of those ways is to participate in clinical research. Another is to raise money for research, which costs money. Lots of money!
So I joined Team Fox and created my own fundraiser. On Saturday, August 3 — my 60th birthday — I will climb Mount Washington, alongside my son Josh, daughter Stephanie, son-in-law Daniel and more than 20 friends. At 6,288 feet it's the tallest peak in the northeastern United States. From the trailhead to the summit is 4.6 miles long and 3,600 vertical feet of pure exhilaration (or torture depending on how you look at it). My goal is to raise $100,000.
Living with PD will be challenging but I'm up for the challenge. Parkinson's is my new normal and I plan on living life to the fullest. I've already started.
Visit Lou's fundraising page to learn more about his story, donate to his hike or learn how you can join the fun on Mount Washington on August 3!
Inspired? Click here to create your own Team Fox fundraiser.