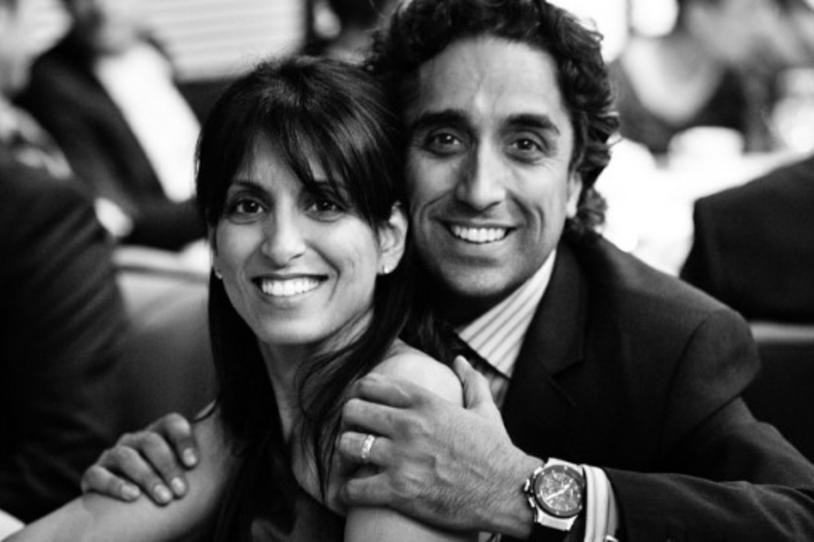 On Valentine's Day, Arun and Soania Mathur will be celebrating together—and taking a moment to reflect. "This holiday makes us realize we shouldn't take each other for granted," Arun says.
Gratitude for each other—and their time together—has been a recurring theme for the Mathurs. After Soania's diagnosis of young-onset Parkinson's disease (YOPD) at age 27, they have been driven to do more sooner. "When you have YOPD, you feel like there's a ticking clock," Arun says. "So we've made travel and family time a big priority. Although my gut and heart tell me we'll be doing this in old age, we may not have that opportunity."
Parkinson's has certainly affected their life—and the lives of their three girls, Sarika (14), Neha (12) and Meeraya (8). But Arun says, "If I'd known on our first date where the next 25 years would take us, my question to Soania would still be, 'What time should I pick you up?'"
While that first date felt like love at first sight, it required several months of planning on Soania's part. A first-year undergraduate in Halifax, Nova Scotia, she was friends with Arun's sister. All semester, Soania had been "borrowing" the computer of Arun (then a second-year medical student). As he soon learned, she wasn't especially interested in his computer: She had an even better one of her own.
Now that Arun had taken notice of Soania, he hatched a plan of his own. He says, "When I started to date a girl, I'd make a bet with her, which I would lose. As part of the deal, I had to make her dinner. I always made the same dish. It may have looked impressive to her, but a monkey could have pulled it off. Thankfully, the last time I made it was January 15, 1988—our first date."
The couple married five years later. They both graduated from medical school, Arun becoming a surgeon specializing in urologic oncology and Soania a family physician. Soania's diagnosis, just after the birth of their first child, "still feels like yesterday," says Arun. "It was a huge shock. When you're that age, you feel like you're bulletproof. It took us a lot of time to adjust."
For the first 10 years, they didn't want anyone to know about Soania's PD. Focusing on their family and their careers, "We did whatever it took to hide it," Arun says. "But eventually we realized more energy went into hiding it than enjoying whatever situation we were in. When we did tell everyone, we didn't get the reaction we had feared for so long. Instead, the support was fantastic and a huge weight was lifted off our shoulders."
Around that time, Soania and Arun also shared the news with their girls. They had grown up seeing the symptoms of their mother's Parkinson's, but without knowing what they were. Arun says, "For them, nothing really changed. Now they just had a name for Mommy's shakes." The girls began conducting their own research on Parkinson's through "Dr. Google," says Arun, and approached him and Soania about what action they could take. As their parents had gotten involved with The Michael J. Fox Foundation (Soania sits on the Patient Council and both have fundraised for Team Fox), Sarika, Neha and Meeraya wanted to do their part. While initially surprised by their interest, Arun admires how the girls' involvement has broadened their perspectives—and taught them to appreciate their own good fortunes.
Arun will be celebrating Valentine's Day with all four women in his life—dinner at a nice French restaurant for Soania and dessert somewhere fun for the girls. While he loves his medical practice, he says, "I try to define myself by my wife and my kids. Unlike a career, you can't take my family away from me."
To celebrate their 20th wedding anniversary this year, Arun has more plans in mind, which remain under wraps. "Not only is Soania stunning beautiful and brilliant, she really does complete me," he says. "Despite being thrown a complex lifelong illness, she has taken these hardships in stride—raising three incredible children, maintaining strong spousal relations and motivating others with the disease. She has chosen to not succumb to Parkinson's. That's how you beat it."
He continues, "Sometimes it takes a life-changing moment to shift your perspective. For me, it was my wife's Parkinson's. It—and she—have made me a better person. And I wouldn't change a thing."