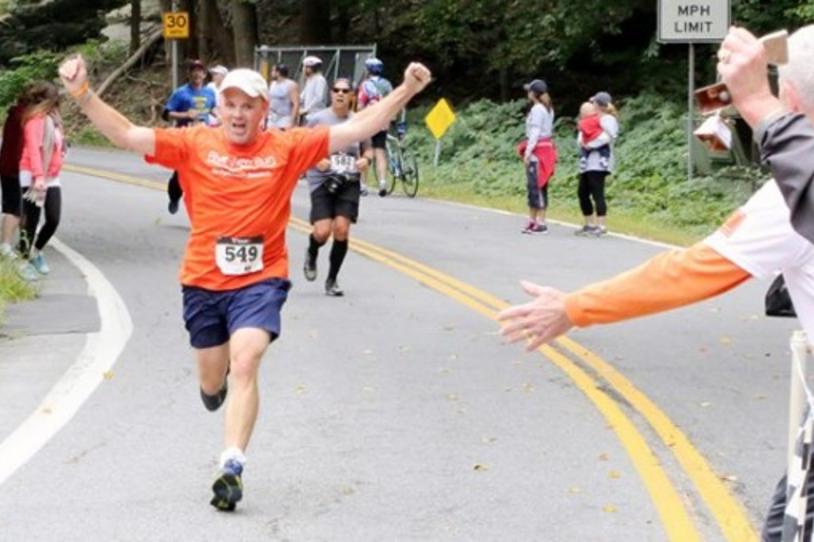 Team Fox member and mentor John Ryan is a force to be reckoned with.Having completed his first half marathon in 2012—an accomplishment which 2 years earlier was only a dream—John has spent the last 18 months adding 10Ks, half-marathons and 18-milers to his training belt in preparation for next week's ING New York City Marathon.  John may not call himself a runner, but I would; in fact, the term warrior oftentimes seems more apt. Nevertheless, there's no debating that over the course of the last 18 months, something has stuck.
Diagnosed with Parkinson's in April of 2010, John often describes himself simply as 'someone living with Parkinson's'. He is intentional in not describing himself as someone who suffers from or is victimized by PD: an optimistic outlook he has adopted from the get go. While it took some time to go public with his diagnosis, John realized that "it didn't make sense to let the disease take over or to hide from it" and in many ways, sharing his new reality was an important step forward. Soon thereafter, John participated in the 2011 Parkinson's Unity Walk in Central Park alongside more than 60 friends and family members. From that point forward, John and his family have remained influential Parkinson's advocates and champions for the Michael J Fox Foundation.  
Over the past six months, John has trained rigorously to prepare for his first marathon.  Admittedly, he's had some extremely tough days, and some when he has even considered abandoning the journey altogether. Thankfully, he relays, the support of the Team Fox community has kept him strong:  "From group runs with fellow Team Fox members to the Charity Miles I've logged virtually, this group has both kept me going while holding me accountable. There's a unique camaraderie that has been built through this process and the celebration of other's successes has deepened my resolve." While there will be many memories to celebrate on race day,  John admits that he's most looking forward to sharing the experience with his fellow runners and loved ones while hearing the cheers for TEAMFOX throughout New York City. 
Having had the chance to get to know John better these past few months during our weekly training runs through Central Park, I know personally how strong his determination and his presence within this fight for a cure truly are. From the early days of hoping to complete a half-marathon to now looking undaunted at a full 26.2 miles, John is the true embodiment of think/able, only further emphasizing that it's not our challenges, but rather our actions that define us. While he plays down the challenges of living day to day with PD, John is also realistic about what lies ahead and is thus driven to take advantage of every moment he has. I asked John what he would say to someone in the Parkinson's community to get them going and he wisely replied:  "Don't just cheer from the sidelines if you can run the race. The most important decision I made was to engage and become an agent of change myself."  
Best of luck John-- We can't wait to see you crushing it on November 3rd! #GoTeamFox
To read more of John's story and to support his 2013 fundraising efforts, visit his Team Fox page today!