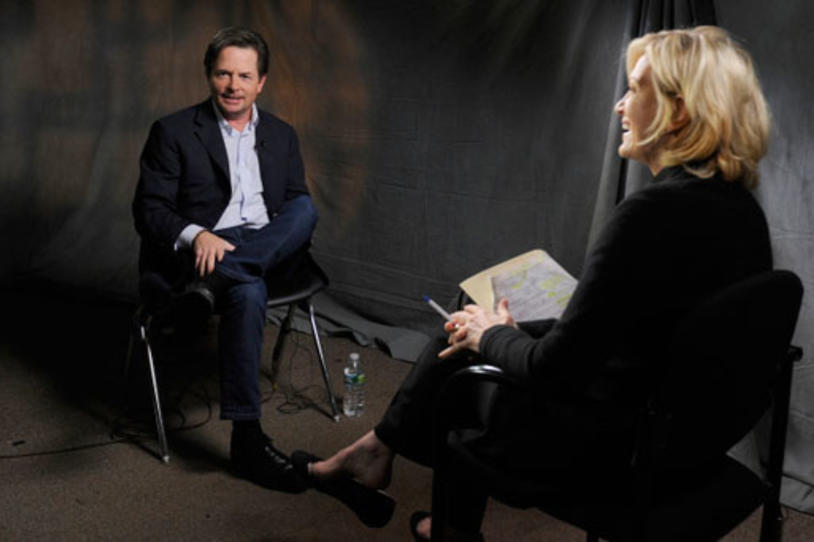 As you've probably heard by now, Michael J. Fox is set to create and star in his first sitcom since "Spin City"! The as-yet-untitled comedy will premier on NBC in fall 2013 and will be loosely based on Michael's life.
All of us at the Foundation are thrilled and can't wait to welcome Michael into our living rooms once a week! (Some of our staff are so young they don't even remember "Family Ties.")
On a slightly more serious note, some reports have linked Michael's ability to go back to work, after more than 20 years with PD, to a supposedly new treatment or therapy. We traced this back to a statement Michael made to Diane Sawyer during an interview with ABC News and Yahoo! News from May:
Diane Sawyer: ...This is a pretty great professional trajectory here.
MJF: I did some work earlier in the 2000's... and I enjoyed it but I found it challenging. And then I kind of stumbled on a new combination of meds that reduced what is called dyskinesias which I had really bad earlier which was [moves back and forth] which is that movement. And once that was tackled, to the point where I can be as still as I am now, I thought, there's no reason not to work.
DS: You say you stumbled on a new combination of medicine?                      Stumbled?
MJF: …[T]here's a drug that previously was used to combat the flu with older people...they found out that for those older people that had Parkinson's and took Parkinson's medications that had dyskinesias, that it worked effectively on a large amount of the patients that took this medication. So it eventually got repurposed...well now I have less dyskinesia and don't get the flu. So that's kinda nice.
This is not the first time Michael has publicly discussed his personal experience with the drug amantadine, which, while not an approved treatment for dyskinesia, is commonly prescribed off-label to address the disabling side effect of long-term levodopa therapy. He has spoken over the years about the benefits of his individual "drug cocktail" in combination with an active lifestyle. However, in all aspects of Parkinson's disease, patients' experiences vary widely.
First and foremost, it is critical that anyone living with Parkinson's work closely with their health care provider to determine their own, optimal treatment regimen.
Secondly, response to amantadine is far from consistent across patients, and the drug is not well-tolerated by everyone. Some of the more common side effects include blurred vision, digestive issues, dizziness, drowsiness, lightheadedness and trouble sleeping.
According to Irene Hegeman Richard, MD, a member of our Scientific Advisory Board, "In terms of whether amantadine… really takes care of dyskinesia, it does not. A lot of patients don't tolerate it. It can have various side effects. And it's not fully effective. It may not completely block dyskinesias, and for some patients it doesn't block them at all. It's better than nothing; we use it and in some patients it can be very helpful. But it's not enough."
It bears repeating: What works for Michael J. Fox (or any individual patient) doesn't work for everyone. If you have PD, work with your health care team to tailor a therapy regimen that works for you.