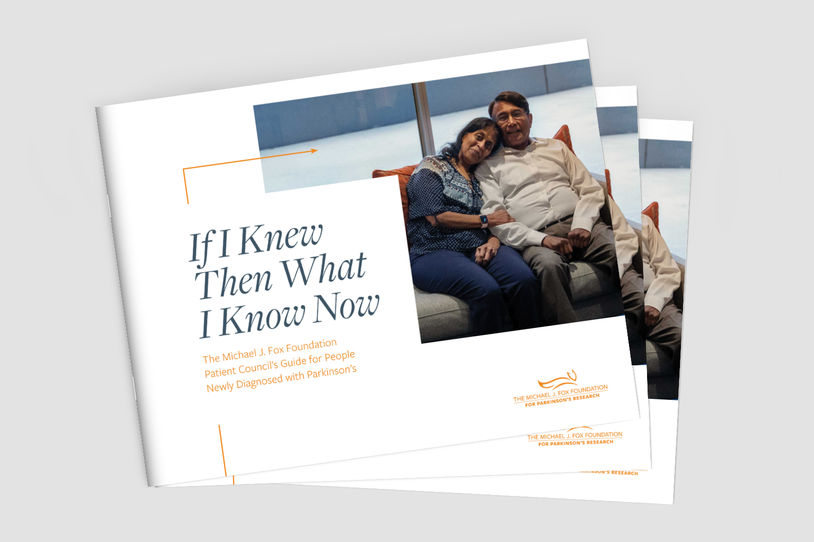 "You have Parkinson's disease." These four words are the start of a journey full of emotions and questions as an individual comes to terms with a diagnosis. This year alone, it's estimated that more than 60,000 people in the United States will hear these words from a doctor for the first time. And during the COVID-19 pandemic, many may be navigating their Parkinson's disease (PD) diagnosis as the world copes with an extraordinary global health crisis.  
Michael J. Fox, who was diagnosed with Parkinson's at age 29, has often spoken candidly about how he has come to terms with his own diagnosis: 
"My first thought was, 'what the hell happened to me? What am I going to do?' That took time to work through, but I found out that if I could accept what my situation was, and be honest about it, I could move forward. And my happiness grows in direct proportion to my acceptance."
At The Michael J. Fox Foundation (MJFF), we're here to help anyone who is processing their earliest days with the disease. A good first step is often to connect with others who are living with PD. As such, today, we launch a new resource, "If I Knew Then What I Know Now: The Michael J. Fox Foundation Patient Council's Guide for People Newly Diagnosed with Parkinson's," to provide comforting insights, wisdom and practical strategies to answer common questions about navigating life with Parkinson's. Authored by five members of MJFF's Patient Council, the peer-to-peer resource aims to offer support and empower anyone who is processing their PD diagnosis.
"A Parkinson's diagnosis brings many questions and concerns and a series of inevitable hurdles," said Soania Mathur, MD, guide contributing writer and co-chair of our Patient Council. "We may not have a choice in our diagnosis, but how we face those challenges is ours to determine."
Whether you've been recently diagnosed with Parkinson's or have been living with the disease for years, the Foundation's new 32-page guide also offers tips on managing Parkinson's care written by Rachel Dolhun, MD, MJFF vice president of medical communications and a movement disorder specialist.
Answer your questions about Parkinson's by downloading the free guide available here. 
Then, register for our upcoming webinar on Thursday, May 21, "I've Got Parkinson's…Now What? Navigating a New Parkinson's Diagnosis," featuring expert panelists and people with Parkinson's who will discuss practical tips and viewpoints on being diagnosed with PD.