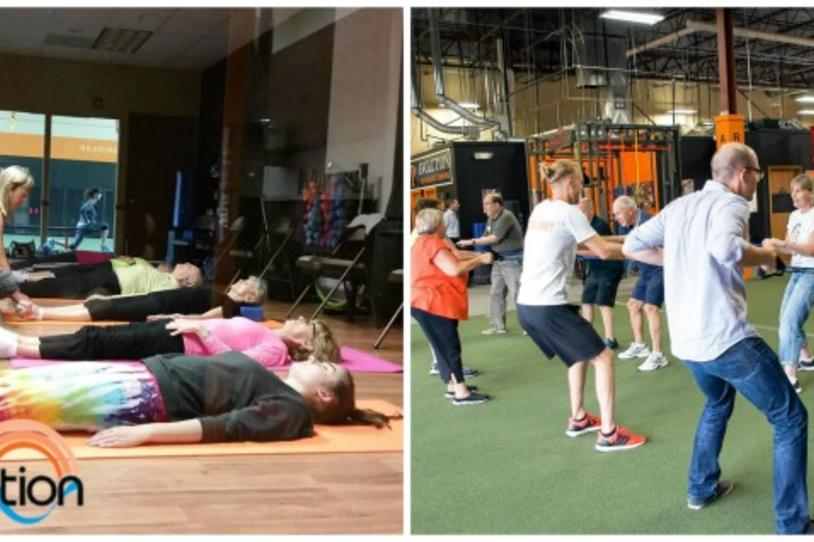 It is just weeks into the New Year, and Team Fox members are making 2016 count, through a focus on fitness and wellness. Patient Council and Team Fox member, Dr. Karen Jaffe, is both a physician and PD patient who understands the importance of a holistic approach to well-being for those living with movement disorders. This inspired her to become a founding partner of InMotion, located in Cleveland, Ohio.
Now in its second year of operation, InMotion is setting a precedent for self-care through education, exercise and healing arts. Dr. Jaffe shared the impact she has seen the center have on her local community:
1. What was your motivation behind becoming an InMotion founding partner?
After being diagnosed with PD, I began looking for ways to reduce my symptoms. As a physician and a patient, I was very interested in how beneficial and important the role of exercise played in my well-being, yet there were no formal exercise programs for people with PD in my community. It is my belief that while we wait for a cure, people living with PD would benefit greatly from the development of a community wellness center — one that was designed for all ages and all levels of ability.
2. Tell us more about InMotion and its mission.
InMotion is a diverse nonprofit that provides those affected by PD and other movement disorders a place to turn for physical, emotional and spiritual support, empowering them to take charge of their well-being. It offers a variety of exercise classes ranging from cycling to boxing that help clients strengthen their bodies. We have Reiki and massage, as well as art and music therapy to soothe the mind and spirit. This is complemented by our Compassionate Peers program and support groups for people living with Parkinson's and their care partners. We also host expert presentations to help bring the latest movement disorder research and news to light.
With the vision of my founding partners, Allan Goldberg, Lee Handel, Dr. David Riley and Ben Rossi, the ​board of directors and staff have made the impossible possible — building a community ​center where the stigma of PD is left at the door, and all services are free to patients and their care partners.
3. What role has the Center played in your local Parkinson's community?
InMotion has provided a common ground for those of us living with PD, while empowering family and friends with the knowledge they need to be better able to support loved ones. It's provided fresh energy and hope, which in turn reinvigorates entire families.
Every day we see InMotion's clients welcome in new PD patients, many of whom have not even thought about exercising in years, and they are reaching out to each other to continue the circle of support, creating new friendships. That is what makes InMotion so special.
4. What advice would you give to someone who is interested in learning more ?
I​nMotion hopes to be a spark for other communities to begin planning their own PD Wellness Centers. We love sharing our story and welcome you to reach out to the InMotion staff and certainly plan to come to Cleveland for a visit to see it firsthand!
Inspired to learn more? Visit beinmotion.org and view the InMotion informational video!