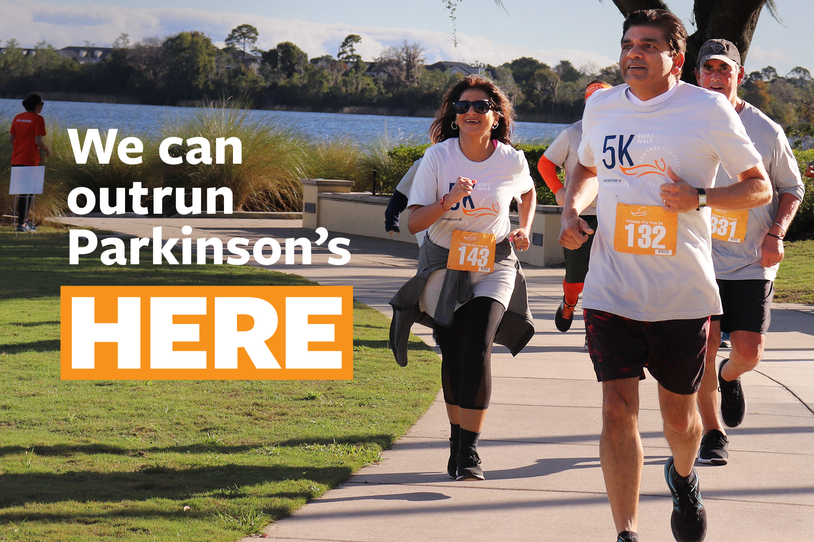 Coming to a park, a trail or a treadmill near you! Patients, families and supporters all over the globe are preparing to lace up for The Michael J. Fox Foundation's (MJFF) first-ever Virtual 5K / 10K event — in a unified effort to support Parkinson's disease (PD) research. On Friday, October 2 runners and walkers of all abilities will start logging their miles from anywhere in the world to help kick off the Foundation's "Celebrate Science HERE" weekend filled with virtual engagement opportunities and incentives to get involved.
"These events create communities united for a purpose. Runners and walkers representing every age, experience level, and ability come together by virtue of a shared commitment to ending Parkinson's disease by helping to fund research," said Allan Hugh Cole Jr., PhD, University of Texas at Austin professor and person living with Parkinson's who has laced up his sneakers in past events to support a cure. "My family, friends, and I find these 5Ks to be fun, meaningful, and empowering."  
Since 2017, MJFF's original Fox Trot 5K Series has united more than 10,000 community members and raised over $2 million for critical Parkinson's research. Drawing inspiration from the Series, the new MJFF Virtual 5K / 10K is pivoting and expanding during the COVID-19 pandemic to safely unite the community in pursuit of ending Parkinson's. This event will have our most ambitious goal to date — raising $500,000 — the highest fundraising goal MJFF has ever had for a single 5K event.
"The Foundation has spent this year pivoting on all fronts, with the goal of maintaining momentum in Parkinson's research and uniting the community through virtual opportunities to accelerate a cure," said Debi Books, MJFF co-founder and executive vice chairman. "We are energized by the creativity and dedication of every individual who is helping us meet this challenging year so that we can advance more breakthroughs for people with Parkinson's."
Join us and the global MJFF community on the weekend of October 2. Sign up for the Virtual 5K / 10K event today! If you have any questions, email us at foxtrot@michaeljfox.org.