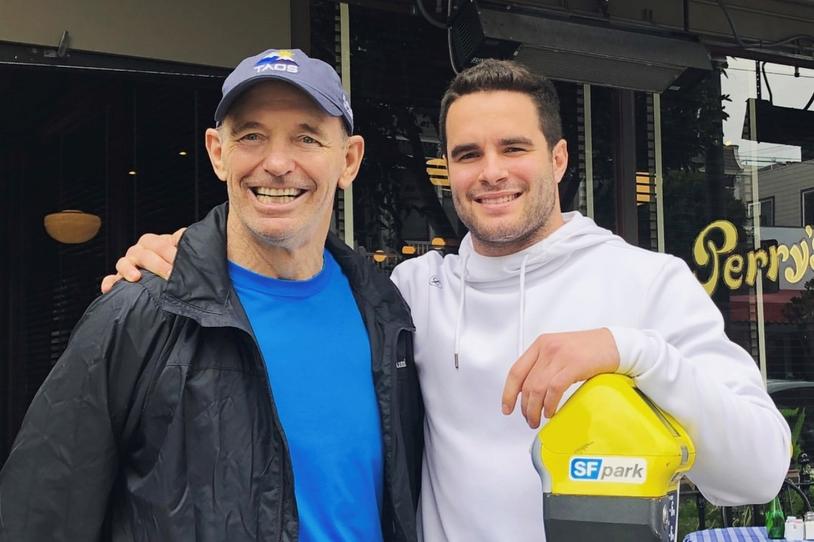 Nick Manis is a competitor at heart. A standout high lacrosse player, the Maryland-native went on to captain the 2017 National Championship University of Maryland lacrosse team. After graduation, Nick played professionally for the Chesapeake Bayhawks before retiring last year. (Though he recently returned for the Major League Lacrosse's mini tournament happening now in Annapolis.) "I've been involved in sports my whole life," says Nick. "I was looking for my next challenge."  
Throughout his sports career, one of Nick's biggest supporters has been his uncle Brian Adam. "We're a very tightknit family," says Nick. Brian's three daughters also grew up playing lacrosse in the area and advancing to the collegiate level. "I always looked up to my cousins who really led the way for me and my sister," says Nick, the youngest of the two families. "Brian was at almost all of my games. We have a special bond," says Nick. "He's someone you want to make proud if you have the opportunity."
That opportunity came after Brian was diagnosed with Parkinson's disease (PD) in 2013. Last year, he underwent deep brain stimulation (DBS), a surgical procedure that can help ease motor symptoms and decrease medication needs in some people with PD. "He's remained positive throughout everything. I just wanted to make a difference somehow and return the positive energy," says Nick.
In February, Nick signed up to tackle a 30-mile endurance challenge through the Blue Ridge Mountains in West Virginia. He joined Team Fox and set out to raise $2,500 for The Michael J. Fox Foundation in honor of Brian. When the April event was canceled due to COVID-19, rather than throw in the towel, Nick got creative. "My goal was to complete the challenge in seven hours which was the amount of time my uncle's surgery lasted," says Nick. He mapped out a new course that would take roughly the same amount of time: 26.2 miles along the Bacon Ridge Trail in Annapolis (with its 5,000+ feet of elevation), followed by a nearly three-mile swim across the Severn River.
And on May 10, at 5 a.m., Nick along with his childhood friend LJ Urie, and former Maryland teammate Nick Brozowski, began the challenge. Across the country, another friend and former high school teammate Blake Wood prepared for his own marathon in California as part of the fundraising effort. "It meant a lot to have my two friends with me and another in California supporting me and Brian," Nick says.
At around 1:30 p.m. Nick, LJ and Nick reached the Linstead pier, near Brian's house. Brian was there to greet them, smiling proudly. "He's always smiling and making others smile. To be able to give back to him was something special," says Nick.
And like the physical challenge, Nick blew his fundraising goal out of the water. "I wasn't sure how much I could raise when I started. When I passed my goal, I kept shifting it. But after I passed $25,000, I just let it go. And it kept growing," he says. To date, Nick has raised over $51,000. "It was really cool to see how many people donated. The highest individual donation was $5,000 but beyond that there were so many who contributed smaller amounts that added up quickly," says Nick. "It's a real testament to all the lives my uncle has touched and his legacy."
That legacy continues with Brian's daughter Elizabeth Adam who teamed up with her cousin to create, Team Brian Adam. She planned to run the Berlin Marathon before it was cancelled but has committed to running 26.2 miles on September 20 locally instead. As a family, they'll continue to compete and challenge themselves on behalf of Brian and all those living with Parkinson's disease.