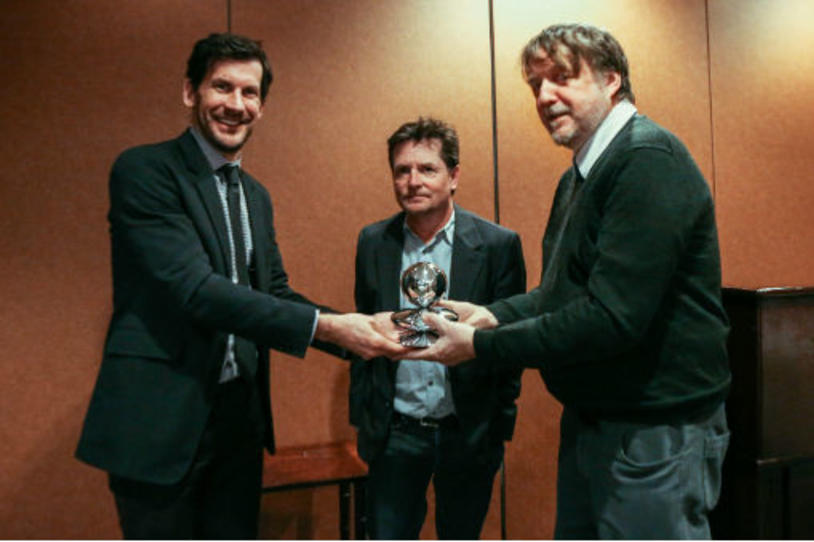 Michael J. Fox presented John Hardy, PhD, a pioneer in the study of Parkinson's genetics, with the 2015 Robert A. Pritzker Prize for Leadership in Parkinson's Research at a ceremony Wednesday in New York.
An expert in Alzheimer's genetics, as well, Hardy — now professor at UCL (University College London) — led a team toward a pathological discovery that revolutionized Parkinson's drug development. Moreover, he is regarded as an influential thought leader in driving the exploration of genetics for a causal role in Parkinson's disease, an area given little merit only 20 years ago.
"We can't overstate the importance that genetics has played in understanding diseases like Parkinson's," said Brian Fiske, PhD, MJFF senior vice president of research programs, at the ceremony. "This idea that you can link a genetic change to a disease has fundamentally shifted how we can think about treating these conditions."
The Pritzker Prize has been awarded annually since 2011 by MJFF to recognize researchers who make an exceptional contribution to Parkinson's research and exhibit a commitment to mentoring the next generation of Parkinson's scientists. Hardy will receive a $100,000 grant to advance his research in neurodegenerative diseases.
In 2003 Dr. Hardy and colleagues published in Science that triplication of the alpha-synuclein (SNCA) gene caused Parkinson's in a family with high incidence of the disease. This finding built on earlier reports of a point mutation in the SNCA gene associated with Parkinson's and is the basis for disease-modifying treatments in development today that seek to lower levels of the protein alpha-synuclein, a promising approach to slow or stop Parkinson's progression.
"I am personally amazed by how his genetic discoveries and analysis have changed the course of Parkinson's disease and shaped some of the greatest therapeutic breakthroughs to date," said Michael J. Fox.
"I'm overwhelmed and very touched," said Dr. Hardy. "While I'm very proud of the work I've done and have really enjoyed it, I think that bringing smart people into the field will be a much more important thing that I've done."
Beyond his individual contributions, Dr. Hardy has seeded breakthroughs in Parkinson's research through collaboration in large-scale consortia and mentorship of the next generation of Parkinson's geneticists. Several researchers trained in his lab at the Mayo Clinic in Jacksonville, Florida have gone on to become today's most prominent leaders in the genetics of brain disease, including MJFF Scientific Advisory Board Members Mark Cookson, PhD, (at left in photo) and Andrew Singleton, PhD, (right) both now senior investigators at the National Institute on Aging, part of the National Institutes of Health; and Matthew Farrer, PhD, professor at the University of British Columbia.
The Robert A. Pritzker Prize for Leadership in Parkinson's Research is made possible by Karen Pritzker, daughter of Robert A. Pritzker, and her husband, investor Michael Vlock. The prize is named in honor of the late Robert A. Pritzker, a renowned industrialist, entrepreneur and philanthropist. Pritzker was founder of The Marmon Group and president of Colson Associates, Inc., holding companies for a variety of manufacturing and medical businesses. Additionally, he was an early promoter of the field of medical engineering at his alma mater, the Illinois Institute of Technology (IIT) in Chicago, where he also played a key role in expanding the biomedical research community through his support of The Pritzker Institute for Biomedical Science and Engineering at IIT.
The award, designed by renowned artist and Parkinson's patient Tom Shannon.