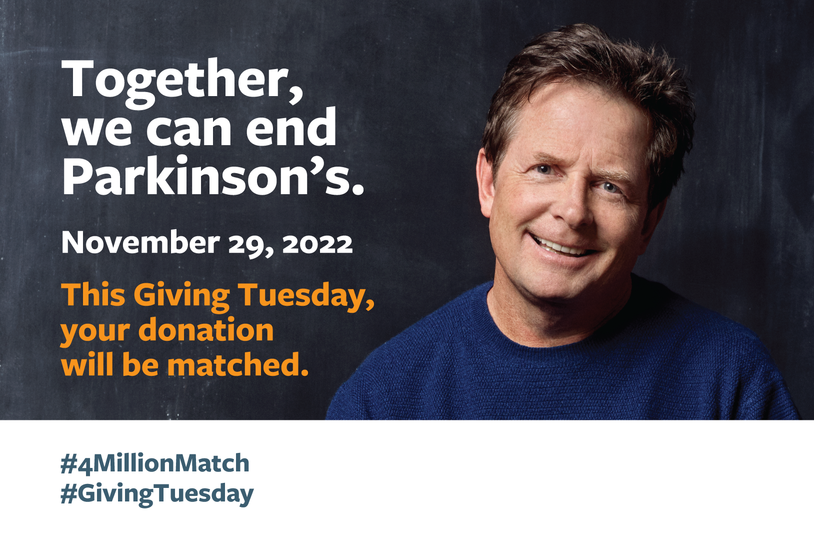 Like many organizations around the world, every year The Michael J. Fox Foundation (MJFF) takes part in an international day of giving known as Giving Tuesday. This annual event marks the largest single day of fundraising for the Foundation — an incredible opportunity to rapidly accelerate Parkinson's disease research in a short period of time. And every year, we count on people like you to be part of the action.   
This Giving Tuesday, November 29, MJFF has the chance to speed a cure for Parkinson's like never before. Several families impacted by Parkinson's have stretched their contributions to meet the demands of advancing Parkinson's research and will match all donations on or before November 29, up to $4 million. That's twice as much as last year's Giving Tuesday match and the largest in Foundation history. Now, we're asking the entire Parkinson's community to step up as well. 
We're upping the ante and need you to help us meet this critical moment because the science requires it. Together, if we achieve the full match, we can contribute a total of $8 million to Parkinson's research before the year ends. In the past decade, Parkinson's research has become increasingly complex — and expensive. With more activity in the drug development pipeline than ever, that funding would go a long way toward speeding novel discoveries in the lab, getting promising projects off the ground, moving potential therapies through clinical testing and much more. Now is the time to increase our investment in the next generation of Parkinson's treatments and cures. 
While it's never been done before, we're confident that with your help, we can reach this ambitious goal. There are many ways to get involved in this historic day of giving and double your impact. Choose the one that works best for you and encourage your friends and family to join us. If we're going to make this the biggest Giving Tuesday ever, we'll need everyone to contribute. Any gift — no matter the amount — makes a difference.  
Here are a few ways to take part: 
Donate on or before Tuesday, November 29 and your dollars will go twice as far toward a cure. 

Learn how to Be a Fundraiser and start reaching out to your network to let them know about this historic match. 

If you're considering an IRA charitable rollover, all commitments initiated on or before Giving Tuesday can also be matched. Please reach out to our Planned Giving team at plannedgiving@michaeljfox.org or 212-509-1524 so we can ensure your contribution counts toward the match.  
Join the conversation on social media to share how you're contributing this Giving Tuesday using hashtags #GivingTuesday #4MillionMatch. 

Questions or want to make a gift over the phone? Give us a call at 800-708-7644.
Stay tuned to our blog to read about how members of our community are taking advantage of the match to speed breakthroughs for people living with Parkinson's.  
Special thanks to our generous donors who have made this match possible: 
The Hoven Foundation 
William and Margaret Fern Holmes Foundation 
Eddie and Jo Allison Smith Family Foundation 
Christine and Sonny Whelen 
Virginia Clay 
Robert and Mary Hirshson Estate