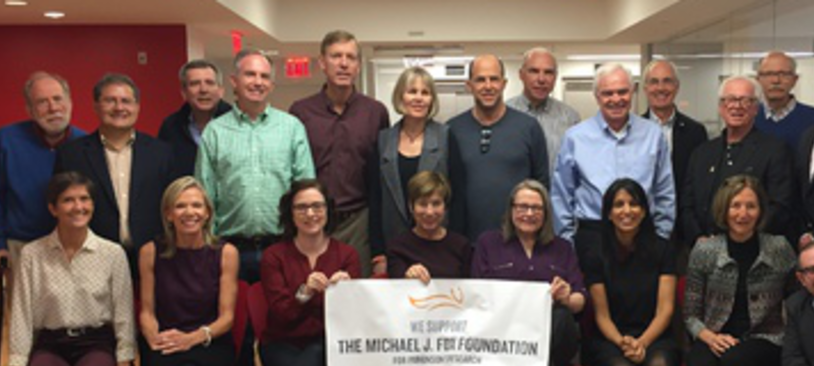 The Michael J. Fox Foundation (MJFF) exists for one reason: to find a cure for Parkinson's disease (PD). And patients are at the very center of that pursuit. That's why the Foundation's Patient Council came into being and that remains its central purpose today.
Our goal is to make sure the patient voice helps inform, support and fortify the fight against Parkinson's. We strive to make a difference by making sure scientists, policy makers and society at large understand what matters most to patients and their families. We engage in a wide variety of activities that support our broad Parkinson's community including the development of educational resources and outreach programs. And perhaps most importantly, we focus on efforts that can help speed research progress in the development of better treatments and ultimately a cure.
From young-onset individuals through those who have had PD for more than two decades, the nearly 30-person Patient Council understands the reality of living with Parkinson's disease and works with MJFF to always have the "patient voice" in mind.
Some of the ways we've done this is advising MJFF on how to encourage clinical trial participation through the development and promotion of Fox Trial Finder, and gathering patient data via Fox Insight. Patient Council members also help foster strong relationships with industry, academia and regulatory agencies. We know that Parkinson's disease can progress differently over time, but over that same time period, we all have a wonderful opportunity to actively engage in number of meaningful ways. Individuals can make a measurable impact and we encourage you to get involved!
Our most recent endeavor is the Patient Council Fox It Forward fundraising page. We've set a goal of raising $25,000, and when we reach it, we'll up that target to $40,000. Since all donations are currently matched dollar for dollar through Giving Tuesday (or $1 million), we are not going to slow down!
You will be hearing from us, the Patient Council, more frequently here on the MJFF site. We look forward to engaging with you and we are confident that through collaborative effort, we will make significant gains in understanding and treating Parkinson's disease.