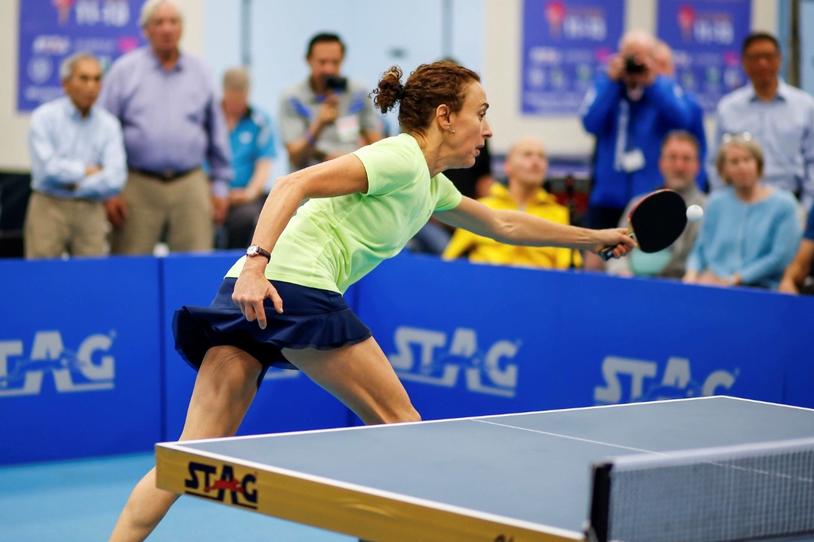 On October 12, Margie Alley won the Women's Singles Gold Medal at the first-ever ITTF World Parkinson's Table Tennis Championships. She reflected on the event saying, "It was an incredible tournament that was much more than just table tennis. Winning was only one part of the overall experience. There were 60 athletes living with Parkinson's disease who traveled from all over the world to compete. We were bound by our shared commitment to living well with Parkinson's through exercise. It was an inspirational experience which I will never forget."
The preparation started long ago, but before I knew it — it's almost here! In a few days, I will compete in the first-ever ITTF (International Table Tennis Federation) Parkinson's World Table Tennis Championship in Pleasantville, New York. People with Parkinson's from 11 countries are arriving to compete in this tournament. 
When I reflect on my journey to get here, it starts two years ago when I joined my local Ping Pong Parkinson's (3P) group and a whole new world opened up for me. Both the tournament and Ping Pong Parkinson's are the brainchild of Croatian-born singer-songwriter and Westchester County resident, Nenad Bach. 3P has enabled me to find a fun, therapeutic modality of exercise which uses different neuropathic pathways to help slow the progression of my Parkinson's.  
Today, I feel physically strong which gives me the mental and emotional resiliency to fight Parkinson's. In the seven years since my Parkinson's diagnosis, I have found two key ingredients to help me stay healthy: engaging in a sport that is enjoyable and surrounding myself by supportive people. This realization fueled a desire to share my experience with the larger Parkinson's community by creating a 15-minute film short entitled "Gotta Keep Moving." 
Created by an all-star team of talented filmmakers — my childhood friends Nancy Stern Winters and Lisa Lax and their colleagues Rob and Jackie Weir — "Gotta Keep Moving" captures how exercise and community support have helped me to embrace my daily workouts in order to stay healthy and feel good.  As I say in the film, "I have two jobs; one is working as a social worker in a school for students with learning disabilities and the other is working out. I have no other choice."  
As I prepare for this weekend, the support of my family, friends and 3P motivates me to give it my all. If you're in New York, come watch some great table tennis and experience the camaraderie of this incredible community firsthand!