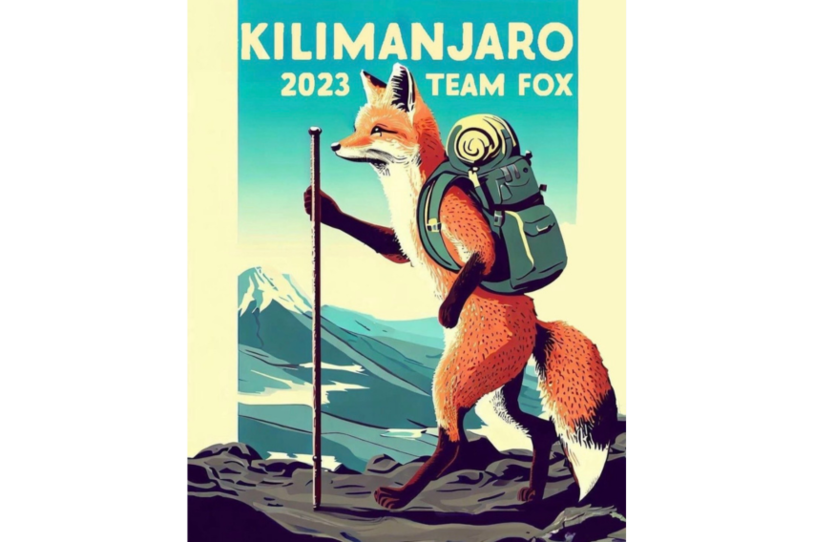 On Monday, August 7, nine climbers will trek Africa's highest mountain, Mount Kilimanjaro (Mt. Kili), in support of Parkinson's disease (PD) research. Team Fox has partnered with Beyond Adventures to guide the 2023 Summit trip via the Lemosho Route, where climbers will camp along the way, summit Uhuru Peak to watch the sunrise at 19,345 ft and stand on the Roof of Africa. Ahead of their eight-day trek, The Michael J. Fox Foundation (MJFF) asked some of this year's climbers why they committed to this physical, mental and spiritual experience with Team Fox. 
Alex DiLalla, 28, Ann Arbor, Michigan (left) and Laura Aldrich, 35, Washington, Delaware (right)

Justin Fields, 38, Knoxville, Tennessee 
 

Lucretia Pintacuda, 67, Asheville, North Carolina
 

Joanne Simmons, 47, Jersey City, New Jersey 
 

Betty Frances Thomason, 19, Greenville, South Carolina
MJFF: Climbing Mount Kilimanjaro is no small feat. What is your motivation for climbing this peak and why did you choose to do this for Team Fox? 
Laura Aldrich: I am climbing Mt. Kili with Team Fox in memory of my father, Boyd Aldrich, who passed away in 2021; he lived with PD for 23 years. The year he died I completed my first multi-day trek to Everest Base Camp at an altitude of 17,598 ft. The views of the Himalayas were incredible, and I really enjoyed the hiking challenge. After that trek, I set my sights on Mt. Kili. When I saw an ad on Facebook for the opportunity to climb to the roof of Africa with Team Fox and raise money for Parkinson's research, it felt like a sign from my dad. What a perfect combination of my passions and interests. If we had known about this opportunity while he was alive, I am sure he would have wanted to sign up immediately to fundraise for MJFF and reach new heights on Mt. Kili. I am excited and proud to fundraise for MJFF and honor my dad's dedication to finding a cure and his spunk for living life to the fullest by climbing Mt. Kili with Team Fox. 
Alex DiLalla: I was diagnosed with early-onset PD shortly after I turned 27. My movement disorder specialist explained to me that rigorous exercise is currently the only intervention known to actually slow the progression of PD, rather than simply treat/mask symptoms. I was gearing up to pick one of the many endurance running events in which Team Fox athletes participate when I saw that this year Team Fox was also assembling a group to climb and summit Mt. Kili. Right then, I knew that is what I was going to commit myself to doing. I had debated climbing Mt. Kili in 2018 and often wondered since then whether I would attempt to do it in the future. I know the climb itself will be hard and uncomfortable; I anticipate enduring a fair amount of struggle and pain during the expedition. But I'm excited to live with those experiences alongside the incredible beauty of the environment around me and build friendships with my teammates as we make our way along the Lemosho Route. My hope is that this experience will teach me more than I currently know about how to continue living and enjoying my life without focusing only on the challenges that Parkinson's brings to the table. 
Justin Fields: I am summiting Mt. Kili to help support the individuals that are still struggling with their diagnosis, and those who have not yet been diagnosed. It was difficult for myself to hear the news, and I want to help build a world where no one has to get the news that they have Parkinson's. I want to let people know that no matter the circumstance you can always chase your dreams. I chose Team Fox because after I was diagnosed, MJFF (and its supporters) made me feel like I mattered and that I could help. 
Lucretia Pintacuda: I wanted a way to come out publicly about my PD diagnosis and thought this would be a good way. I was also looking for a cause to give me purpose and meaning in life now that I am retired. I want to inspire those with and without PD to take charge of their life and live to their fullest potential. I want to bring awareness about PD to others and I want to raise the needed funds to further the research and development to find the cure for PD. 
Joanne Simmons: I've always been the first person to put my hand up when an adventure comes my way. Travel is in my blood, and I love experiencing different cultures to my own, getting to meet people and hearing all about their life stories. My dad was diagnosed with PD in 2021, he lives in England alongside the rest of my family, so I feel like there's not a lot I can physically do on a day-to-day basis to help. But what I can do is help raise critical funds for PD research to one day find a cure. I've been involved with a few fundraising activities through MJFF and when an email came in about the climb, I knew immediately it was what I wanted to do. It married three things I love: challenging myself, adventure and raising money for causes I believe in. 
Betty Frances Thomason: Since the day my dad was diagnosed with PD, he has remained devoted to exercise, good nutrition and physical therapy. This dedication is inspiring in itself, and his practices have encouraged me to focus more on my own health. It can be hard to know how to support someone with PD, but I have found that taking action is never a bad option. It may be cliché, but my climb is symbolic of what we are all working towards: a step at a time — researchers, patient care partners and family advocates alike are climbing towards one ultimate goal — the end of PD. This climb is an opportunity for my dad to take on the supporting role, encouraging me to face the challenge in the same way that he does in his fight with Parkinson's.   
MJFF: Tell us a little bit about what's going to be in your backpack. (This can be something practical, sentimental or motivational!)  
Laura: Some practical favorites: Honey Stinger energy chews, Columbia omni-heat vest and Alpaca wool gloves bought in Ecuador. For this trek, I'll also try bringing audio books. There's no room to carry books (plus they are heavy!), which is a lesson learned from my trek to Everest Base Camp. Sentimental: A flag containing a picture of my dad and I and a Red Sox hat of his to wear while I hike. Motivational: Memories of previous hikes, lived experience persevering through difficult times and reflections from reading the book, More than a Mountain, which detailed stories of climbers with PD or Multiple sclerosis who hiked Mt. Kili together in 2011.   
Alex: Snickers, Sinemet and sunscreen! 
Justin: My day pack will be filled up with snacks more than likely, and more hats than I need. On the sentimental/motivational side (and I know she will groan at me for saying this) but my girlfriend gifted me a really nice compass last year, and I will be taking that to the top with me. She is hands down the most inspirational person I know, and I will be actively missing her on the trip (queue groaning and eye roll)! 
Lucretia: I'm packing clothing and gear that will hopefully protect me from the elements I might encounter on the trek, a journal to write down thoughts and descriptions of my journey to the top and snacks and protein bars to boost my energy. I'm taking a good attitude along in my head. 
Joanne: Two things that I try to do every evening before I go to bed is write down three things that I'm grateful for from that day and I like to sketch something that I saw during the day, so I'll be bringing both of those notebooks with me! 
Betty: Along with the necessities (layers, bug spray and jelly beans), I plan to bring a picture of my family, a journal and plenty of Team Fox bracelets in my backpack. The picture, of course, to remind me of the people closest to me who are also my heroes. A journal to compile all of the unforgettable moments I am sure to experience (I just hope I have enough energy to jot all of them down at the end of the day!). The bracelets to share with everyone I meet along the way…I am a proud ambassador of Team Fox and I want to share the mission! 
MJFF: What has been something you've learned through the training process or something that has surprised you? How do you think this will translate into your climb? 
Laura: I have been training by working out regularly and doing training/gear check hikes in Virginia (Old Rag), Colorado (Mt. Sherman) and New Hampshire (Mt. Washington). The most difficult hike by far was Mt. Washington. Knowing my schedule was tight, I hired a guide for the hike and did zero research on the trail because I had the right gear, a guide and my sister hiking with me. It took us 10 hours round trip to finish the hike and by the end, she and I were both feeling the effects of the rocky trail. What we did to get to the top and back down was rock climb, not hike. Later, I read a review of the trail and one hiker said it was "one of the hardest hikes that I ever did…After this hike I felt Kilimanjaro was a piece of cake that I did last year." 
Alex: I had a fantastic time out in Colorado in June with my Kili teammate Laura Aldrich. We traveled out there to get some altitude training on Mt. Sherman, one of Colorado's famous '14ers. It was great to meet Laura and experience a taste of what we might see during our eight days on Mt. Kili. Luckily both of us seemed to do well at altitude and we got a good sense of what pace felt right for trekking up a high-altitude mountain (SLOW!). I was also able to get a good sense of how I'll need to adapt my medication schedule (thanks to Laura for her patience whenever a Sinemet alarm on my phone would unceremoniously go off from my jacket pocket). That experience definitely eased my nerves a lot about how I'm going to fare at altitude once I get to Tanzania. To top it off the views were incredible! 
Justin: I have been very surprised at the educational portion of training. I've had to do a lot of reading to prepare myself for not only the physical aspects of the summit trip, but also the mental aspects as well. 
Lucretia: For training to climb Mt. Kili, I have upped the difficulty of the hiking I was already doing. I have tried to hike challenging routes two to three times a week, and also did more core training by doing planks, sit ups, lifting weights and so forth. I also added some supplements to my diet to boost my hemoglobin. I have learned that I have better stamina than I thought I had, and I feel more confident about taking on this challenge. 
Joanne: I've learned that challenging myself and having something to work towards is good for my mental health. I've also learned that I'm a lot more capable of doing hard things than I give myself credit for.   
Betty: I joined Team Fox for this adventure pretty late in the game, and sometimes I've struggled to feel ready. However, even though I wish I had more time to train, I'm resting in the fact that all the activity I have done has helped me prepare for the climb. I have worked hard thus far! Before joining Team Fox, my favorite activities were running and cycling, so I mixed hiking into my routine. There is a certain amount of uncertainty that a climb like this brings, and I'm excited to be along for the ride! I've had such a great time training, too. I live in the foothills of the Blue Ridge Mountains, and I've loved getting to explore more of the area. My best friend and I have the tradition of an annual summer hike, so it was fun to include them in my training 😊 
---
Follow along with the Mt. Kili climbers on Team Fox's Facebook, Instagram and Twitter. 
Inspired by this year's group? We are accepting applications for our 2024 Mt. Kili climb.