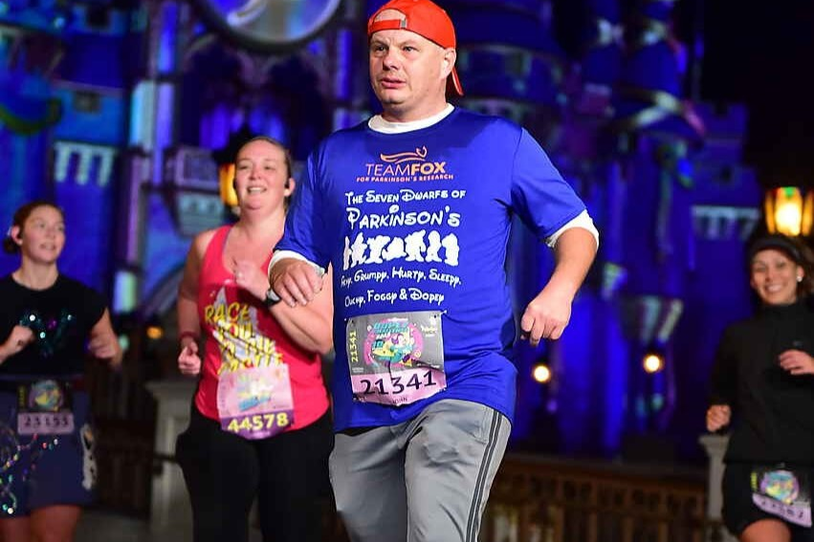 With events spanning across the globe, the Team Fox Endurance Program has been a staple of The Michael J. Fox Foundation's (MJFF) peer-to-peer fundraising since 2005. In this ongoing series, MJFF asks our Endurance athletes about their experiences running, walking, climbing and more with Team Fox.  
---
22 marathons. 37 half marathons. 85 additional races. All while living with Parkinson's disease (PD). Running for Team Fox for the first time in 2018, John Colwell has been a staple in the Team Fox Orlando community, with everyone motivating one another to get up and move every day. Read more about John's inspiration for joining Team Fox and the impact joining has had on him below. 
MJFF: How did you get involved with Team Fox/MJFF?  
John: My wife dragged me to the Pints for Parkinson's event which is where I met someone who was young and had Early-Onset Parkinson's. I was very overwhelmed seeing someone that moved, walked and talked just like me. This was my first experience with meeting someone with Early-Onset... little did I know that person would turn out to be a mentor and really help me grow into living with PD. The following year, my wife dragged me back to the same event and with some convincing, I decided to run with Team Fox for Disney Marathon weekend. The rest, as it goes, is history. 
MJFF: This year you completed a Perfect Dopey — 10 years of running the 5K, 10K, half marathon and full marathon all in the same weekend! What motivates you to keep running year after year and what makes runDisney races so special?   
John: I started running Disney before they had the Dopey Challenge and started doing the Goofy Challenge (a marathon and half marathon in the same weekend). I liked the challenge.  When Dopey came out, it seemed like the next logical step in my progression of running and I have also secretly been a Disney fan since I was young.  
It's also an experience unlike any other. The people I have met during the race, crossed a finish line with or chatted with for a few miles have created memories that words can't express. I have shared stories, laughed and created friendships that will last a lifetime. What separates the Dopey Challenge from other races is that the race itself creates a certain vulnerability for many. With four races spanning four days, by the start of day four, many people are tired, nervous and anxious about the race. Running with people — even if you had just met them that morning — creates a bond where we're all in this together. I keep coming back because I thrive on that experience. Obviously, running helps with my Parkinson's, but the Dopey Challenge is more than just a run; it's a life-changing experience.    
MJFF: You have represented Team Fox at more races than we can count. What does it mean to put on a Team Fox jersey?  
John: It's my goal that by representing Team Fox through running events, others with Parkinson's can see that these races are achievable to complete. Not everyone needs to run a marathon, but inspiring others to get out and move through Team Fox is very important to me personally.  
Having funny PD shirts is a conversation starter, and my wife Susan is a pro at making those shirts. Not only does it raise awareness for Parkinson's, but I have noticed that people are willing to share their experiences and life stories about how Parkinson's has affected them. I am in awe of the number of people that will run with me telling me that I inspire them, which is very humbling. 
MJFF: How has running changed for you since your PD diagnosis? Since getting DBS in 2021? 
John: I started running when I was 22 and quickly realized that I like running long distance. Early on in my diagnosis, running was easy. As the years progressed, I started to see changes in my body. Some of those changes were me not understanding my Parkinson's as I would spend a lot of energy trying to cover-up my symptoms rather than accepting the diagnosis. Time helps acceptance become more of a reality and I started to slowly let my Parkinson's guard down. This gave me the confidence to start enjoying running again and share my successes and failures. There have been many occurrences during a race or at a finish line, such as opening a water bottle, that is nearly impossible, and I have to ask a stranger for help.  
After DBS and getting through the initial programming, I had to learn to run again. Not that I couldn't run prior, but all of a sudden, the rigidity, dyskinesia and small tremors were gone. I spent over 10 years teaching my body how to run with those symptoms, so running without them was a challenge at first. I feel more comfortable and confident in my running now post-DBS than I did in the last few years prior to DBS.