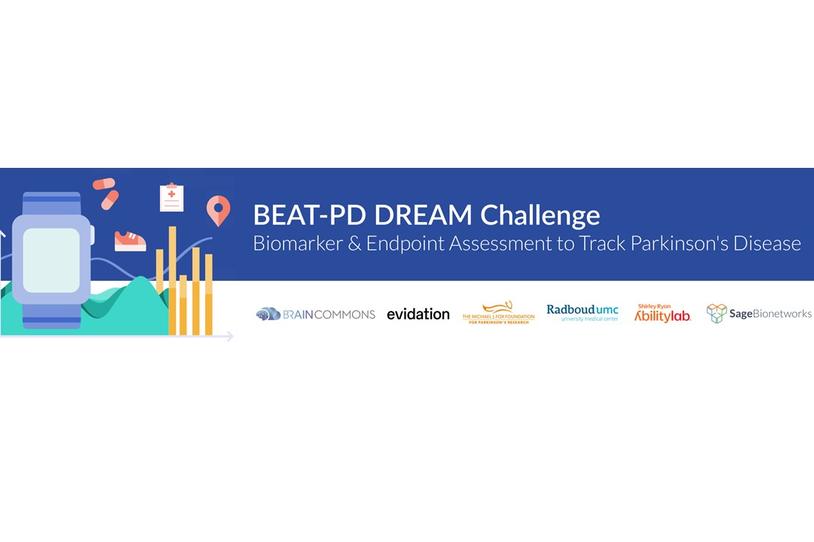 The Michael J. Fox Foundation for Parkinson's Research (MJFF) and Sage Bionetworks announce the winners of the BEAT-PD DREAM Challenge. BEAT-PD (Biomarker and Endpoint Assessment to Track Parkinson's Disease) is a data challenge designed to benchmark new methods to predict Parkinson's disease severity at home. MJFF and Sage partnered with Evidation Health, Northwestern University, Radboud University Medical Center, and the BRAIN Commons to host the BEAT-PD Challenge.
Forty-three teams participated in the Challenge with data hosted by the BRAIN Commons. The teams received access to raw sensor (accelerometer and gyroscope) time-series data, which they used to predict individual medication state and symptom severity. Winners from the Challenge share a $25,000 prize.
The winners of the BEAT-PD Challenge are:
Yidi Huang, Brett Beaulieu-Jones, Mark Keller, Mohammed Saqib (team dbmi) from Harvard Medical School, Department of Biomedical Informatics
Alex Page, Monica Javidnia, Greta Smith, Robbie Zielinski, and Charles Venuto (team ROC BEATPD) from the University of Rochester Medical Center
Yuanfang Guan from University of Michigan
Ayala Matzner, Yuval El-Hanany, Izhar Bar-Gad (team HaProzdor) from the Gonda Brain Research Center at Bar Ilan University
"We congratulate all the winners," says Mark Frasier, PhD, Senior Vice President, Research Programs at MJFF. " The Foundation has supported research into sensors and other digital tools for Parkinson's for many years. The BEAT-PD projects are unlocking the potential of data collected by digital devices to help people with Parkinson's, their physicians, and researchers. Now, more than ever, we understand the critical importance of remote monitoring for the safe and effective delivery of healthcare and the progress of clinical research."
In a previous data challenge, teams proved that disease status and symptom severity could be predicted using data collected during the completion of specific tasks while monitored by a physician. The BEAT-PD Challenge built on this to determine whether disease severity can be assessed from passive sensor data from consumer electronics, collected during daily life, not pre-set tasks, which will bring us closer to the promise of at-home monitoring of disease progression.
Three of the teams (dbmi, ROC BEATPD and HaProzdor) approached the problem by applying signal processing methods to the smartwatch and smartphone sensor data, the results of which were then used in machine learning models which allowed for patient-specific characteristics. The fourth solution, by Yuanfang Guan, applied a deep-learning model incorporating spatial and temporal data augmentation of the sensor data.
BEAT-PD data used in the DREAM Challenge is available on the BRAIN Commons. For more information and to apply for access to these data, please visit the BEAT-PD page on the BRAIN Commons. 
The winning teams have been invited to collaborate to improve upon their individual models, as well as to test them against clinician-validated symptom severity ratings and to co-author a manuscript based on their findings.
You can learn more about the BEAT-PD Challenge and winners at www.synapse.org/beatpdchallenge.