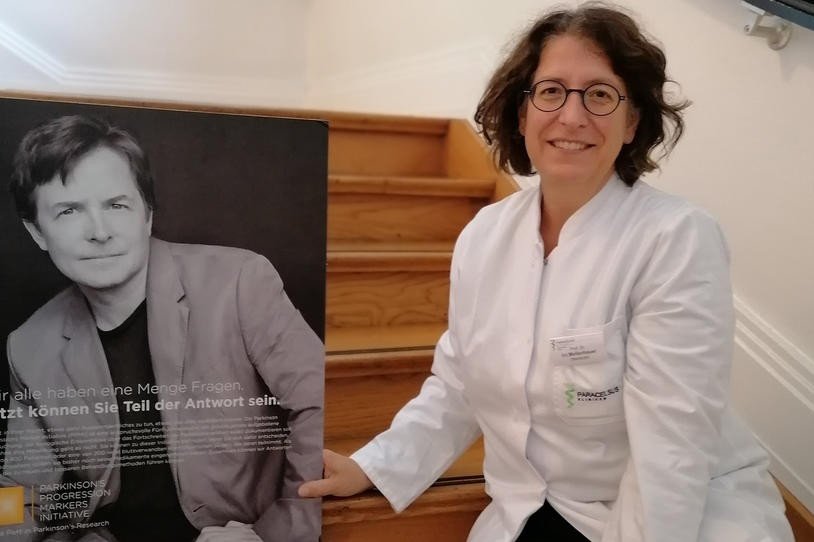 To advance new Parkinson's treatments, The Michael J. Fox Foundation (MJFF) relies on a global network of scientific advisors who highlight opportunities and identify challenges to progress. These partners help us shape and implement our research strategy. 
Each year we honor one of our advisors for their service and dedication to our shared goals. This year's recipient of our annual J. William Langston Award is Brit Mollenhauer, MD, professor for neurology at University Medical Center Goettingen, head of translational research and PPMI site principal investigator at Paracelsus-Elena-Klinik, Kassel, Germany Institute for Neurodegenerative Disorders.  
"I am incredibly honored to receive this award," said Mollenhauer. "I have valued my partnership with MJFF since my first Foundation grant on biomarkers in 2007. I was proud to help launch the Parkinson's Progression Markers Initiative, bringing together scientists to share data and biosamples." It is a landmark study collaborating with partners around the world to create a robust open-access data set and biosample library to speed scientific breakthroughs and new treatments. "I am convinced that PPMI's work is the solution to succeeding in finding a cure and eventually preventing Parkinson's disease."  
Mollenhauer's research focuses on developing tests to improve diagnosis of movement disorders with the goal of accelerating progress in therapeutic development and clinical care. 
She has served as a longstanding advisor to the Foundation and currently serves on the MJFF Scientific Advisory Board and the PPMI Executive Steering Committee. In these positions, she provides thoughtful recommendations on the strategic direction of our Foundation and its landmark study. She also serves as co-chair of PPMI's Biologics Working Group, spearheading key discussions and critical dialogue between leading academic and industry researchers working in the PD field.  
"We are extremely grateful for partners such as Brit," said Mark Frasier, PhD, MJFF Chief Scientific Officer. "She is a constant champion for evaluating new and promising biomarkers of brain disease, and her dedication to the scientific and patient communities is invaluable in our efforts toward cures."  
MJFF established the J. William Langston Award in 2006 to show our appreciation to our hard-working advisors. Langston was a founding scientific advisor when the Foundation was first getting on its feet and worked tirelessly with MJFF staff in those early years to pull together world-leading experts in Parkinson's disease research and to coordinate our first funding initiatives. The Langston Award, which comes with a $25,000 research grant, reflects his original spirit and commitment to the Foundation.