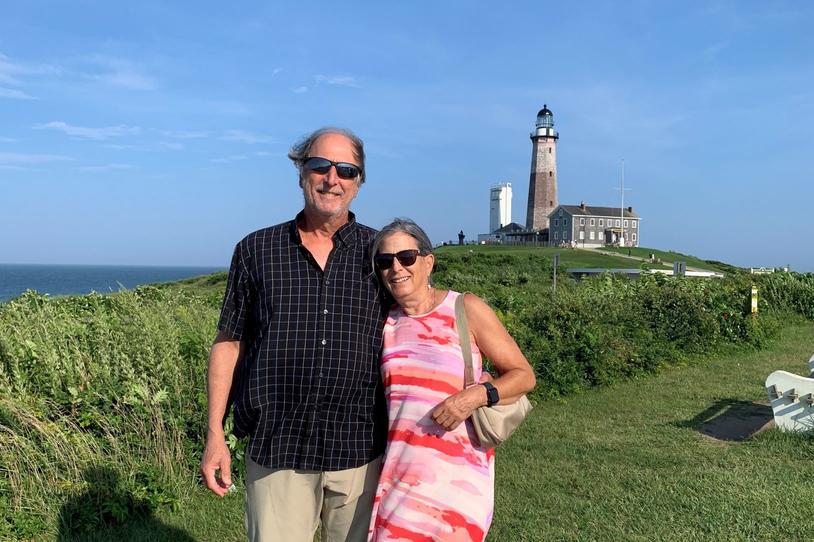 Terry Goldin, 68, lives with REM sleep behavior disorder, which is when you act out dreams while asleep. It's a risk factor for Parkinson's disease, and many people with Parkinson's experience it after diagnosis. The Foundation's landmark study, the Parkinson's Progression Markers Initiative (PPMI) is now recruiting people who act out dreams while asleep. Get started today.
Things that go bump in the night
I don't have Parkinson's disease (PD), but I do have a condition known as REM sleep behavior disorder, or RBD. I never expected it. My wife, Holly, noticed that I was acting out my dreams. I used to play a lot of basketball, and I would dream about intercepting a pass, or stealing the ball — except the ball would actually be the glass lamp on the bedside table, and it didn't bounce when I tossed it across the room.
A desire to increase understanding
I was diagnosed with RBD about 10 years ago. When the doctor confirmed I had RBD, it was reassuring to know that what I'd been experiencing had a name and treatment plan that seemed to work. Right now, I'm on some medications to control it, including melatonin and clonazepam, and it's helped significantly. The doctor also told us that RBD is linked to an increased risk of Parkinson's, however, and this was worrisome. But I'm focusing on the positive. I decided I would participate in research. Once I retired as an architect, I immediately jumped on the bandwagon and found the PPMI study. I'm motivated to help deepen understanding about this disorder and its relationship to Parkinson's. And if I do start showing signs of Parkinson's, I'll find out sooner than later and I'll have relationships with doctors, researchers and others who know a lot about the disease. That will help me start managing it early on, which can contribute to things going better over time.
Leading the charge
I'm proud to participate in the PPMI study. In addition to answering questions about my health and lifestyle, I've gone through a battery of tests, including an MRI, but it hasn't been difficult. I would encourage anyone to do it, especially if they have RBD. It's important to me to do the right thing and be a leader in trying to get to the bottom of this thing.
PPMI is open to anyone over age 18 in the United States. If you act out your dreams or have other sleep issues — whether you have Parkinson's or not — you can play a critical role. Join the study that could change everything.