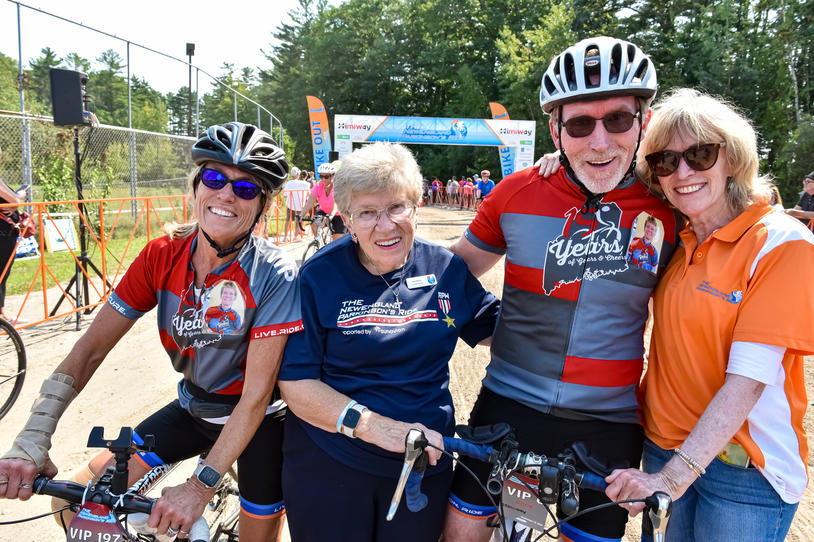 The following story appeared in our Sping/Summer 2023 edition of The Fox Focus on Parkinson's newsletter. For this story and more, download the full edition.
Every year since 2008, cyclists and families from all corners of the U.S. and beyond have flocked to Old Orchard Beach, Maine to participate in The New England Parkinson's Ride, cycling toward a cure for Parkinson's. Born out of a mother's love for her son, the ride goes beyond cycling: it brings together a community that continues to stand the test of time, inspiring teams to return year after year and breaking fundraising records in the process.  
Due to the dedication of Edna Woods; her son Chris, who was diagnosed with Parkinson's at the age of 41; her daughter Cindy; and their entire family, the ride is a perennial favorite of Team Fox, MJFF's grassroots fundraising program. It's celebrated as the Foundation's top single-day fundraiser, with 100 percent of funds raised going to speed critical breakthroughs in research. Over the years, the Woods family have become a resource for newcomers and those living with Parkinson's to get involved with Team Fox. 
Last year, the ride marked several historic milestones, celebrating 15 years and surpassing $10 million raised for research. On a bittersweet note, Cindy Woods, its longtime executive director, retired, but even as she steps down from her active role, the ride will continue – and so will her legacy and that of her family. 
To its participants, the ride has become something much more powerful: a family, coming together every year out of love for one another. Gail Nanof, who lives with Parkinson's, and her son Chris, longtime participants in the ride, explain why the annual event is important to them and to the community. "At the end of the day, it's the people who make the ride what it is," she says. Her son agrees: "It's the collective group, the community — everybody in the Parkinson's family, in the Woods family, in the bike ride family — that comes together." 
With millions raised and thousands of cyclists – including those who have participated virtually – from 50 states and seven countries, the ride's impact on participants and Parkinson's research cannot be overstated. It will continue to be a Team Fox anchor until Parkinson's is cured. 
There's still time to register and join the ride this year on September 9, in person, or from anywhere. Click here to learn more and sign up today.