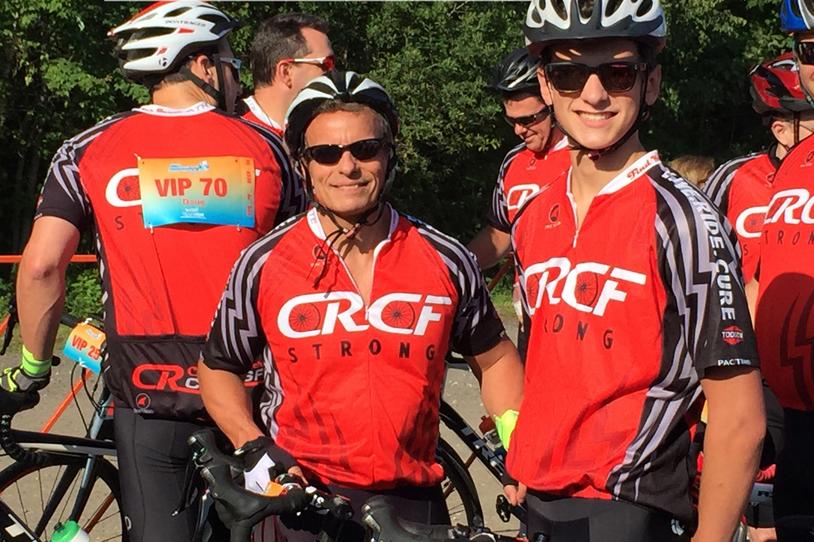 At The Michael J. Fox Foundation (MJFF), there are several avenues for getting involved in our mission, from research participation to fundraising to advocacy. For many individuals like Peter Marconi, those lanes often intersect.
After his diagnosis in 2012, Peter came across MJFF's website and began to read about opportunities to participate in research. "As an engineer, I'm a problem solver. I registered for clinical trials almost immediately because I understood that I can be part of the solution for Parkinson's disease," says Peter.
In 2013, Peter joined the Parkinson's Progression Markers Initiative (PPMI), the Foundation's landmark study to deepen understanding of PD and find biomarkers. That spring the Massachusetts resident attended a dinner for PPMI participants in Boston and was seated with Chris Woods and his sister Cindy Woods Theberge, founders of the New England Parkinson's Ride (NEPR). "Chris asked if I ride and I told him I don't even have a bike!" Peter recalls. "He said, 'Come join us.'"
Peter registered for the 2013 Ride and made plans to travel to Old Orchard Beach, Maine that September. For support, he recruited his friend and workout buddy Mark Hastings, who had cycling experience. "We showed up late, after the race had started and then the zipper on my jersey broke," says Peter. Pinned together, Peter and Mark set out to catch up to the pack. "It was more of a race for us than a ride, but it was a memorable day," he says. That year they raised $2,000 for Team Fox.
The following year, Peter's team grew to 18 when members of his gym got involved and Team Charles River Crossfit (CRCF) Strong was born. A few of the Charles River Crossfit coaches even created a special workout, "Pulling for Pete," they now host every year to raise funds for Team CRCF Strong. Peter's son Charlie also started riding in 2014 when he was 13, and Peter's wife Cheryl has been a dedicated volunteer. "Seeing all of these people get so involved is incredibly touching," says Peter.
In 2019 alone, Team CRCF was 41 members strong and raised over $118,000, bringing the team's lifetime fundraising to over $518,000 — the highest of any NEPR team. "It's such a great experience that people who join call other people who call their friends and it's that network effect," says Peter, who now sits on the NEPR Board of Directors. "There's a core group of people who are there every year, but the team continues to grow and contract," he says. "The social aspect is a big part of it; seeing people I've met over the years and meeting new people."
Of course, that in-person energy and excitement will look different this year. Like many, the NEPR is shifting gears with a Cycling in Sync challenge in which cyclists in all 50 states and around the world will peddle together on September 12. "I typically start fundraising in April, and sending team emails every week. But it's hard to find that motivation and to ask people for money in times like this," he says. Still, Peter — with 15 Team CRCF Strong riders — is staying the course in 2020.
"Continuity is important; we can't just miss a year. Any amount we raise is worthwhile." He adds, "When I reach out to supporters this year, it's more about letting people know how I'm doing and why I'm still riding. Continuing to raise awareness and keeping people engaged for future years is critical."
There's still time to cycle in sync with the New England Parkinson's Ride on September 12. Click here to learn more and sign up today.