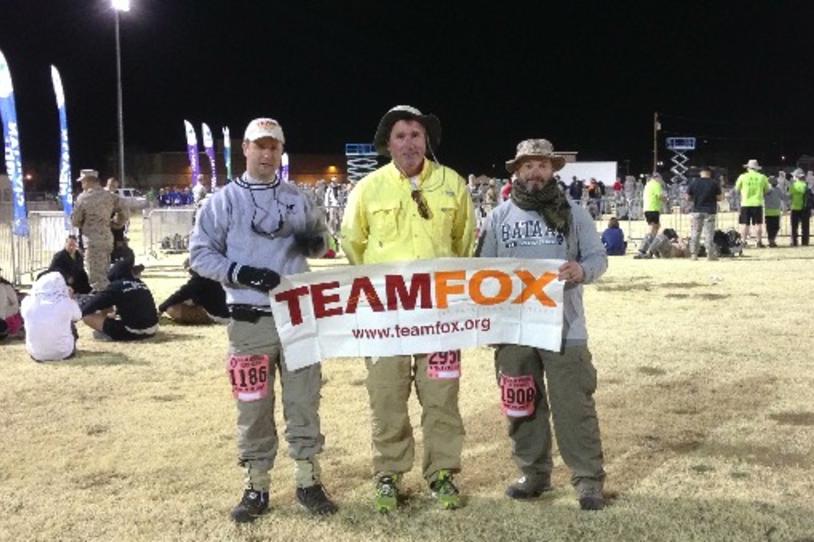 Just over one year ago, Matt Wilbur and Roger Long were two strangers both living with Parkinson's.  While Matt, a seasoned Team Fox athlete, had just completed a very personal "One Step Ahead" Marathon in Cincinnati, Roger had only recently begun his Team Fox journey as a member of the inaugural Mt. Kilimanjaro climb that August. Having personally joined Matt for the "One Step Ahead" Marathon and having also had the privilege of climbing alongside Roger on Kilimanjaro,  I know firsthand how dedicated, determined and optimistic these men are. I also know how eager they are to do what they can to help find a cure.
In addition to their shared sense of adventure, Matt and Roger also share a common friend: Team Fox member and mentor Mike Dubin, who is credited for bringing the two together. Matt, from Cincinnati, OH and Roger, then living in Monument, CO spoke on the phone one evening and felt instantly connected.  Now, just one year later, the two are preparing for the journey of a lifetime – El Camino de Santiago, or The Way of Saint James – a 500 mile pilgrimage over 6 weeks from southern France to Santiago, Spain. 
I caught up with both Roger and Matt to find out more about their preparations for this journey, and to learn what it means for them to be doing it together.
Stephanie Paddock: When did you two first meet?
Roger Long: After Mike introduced me to Matt via phone in late 2012, the three of us decided to participate in the 2013 Bataan Memorial Death March, a marathon-distance endurance hike through the southern New Mexico desert. 
SP: How are you two similar?  Different?
Matt Wilbur: We have both been living with Parkinson's for over a decade yet neither of us has ever asked "Why me?"  Instead, we both have set out to accomplish things in life that others would consider "big" – like running a marathon or climbing Kili – not so much for personal satisfaction but to bring hope and inspiration to those struggling with hardships. 
RL: We share many things, including our shared faith and emphasis on the importance of exercise and attitude when dealing with Parkinson's.  On the other hand, Matt is very calm and quiet while I can be fiery and outspoken at times!
SP: What inspired you to take this pilgrimage?
MW: We had both seen the movie "The Way" with Martin Sheen, and it had come in conversation when we were all in New Mexico.  As the New Year approached, I realized at the age of 61 that my window of opportunity to go was starting to close.  My wife suggested, "Why don't you ask Roger to go?" so I emailed him and laid out my dream.
RL: Just as Kilimanjaro was my number one bucket list item, the Camino was Matt's.  When he proposed the idea in mid-December, in only took me a few days to commit.
SP: What are you most excited or nervous about? 
MW: I'm most excited about seeing if two guys with Parkinson's can do something this big.  I obviously hope to enjoy the culture, but really hope to inspire folks to try to do a little more with their lives. 
RL: I'm excited about the culture and history, and expect it will be one of the most authentic experiences of my life.  My hope is that it will inspire others to take on extraordinary challenges in their lives despite having PD or whatever challenge they are facing.  I am concerned about knowing very little French and Spanish, and hope I'll be able to communicate well enough to find food!
SP: Sum up living with Parkinson's in one sentence.
RL: I can't change the fact that I'm living with Parkinson's, but I can decide how I live; I choose to live like I'm already cured.
MW: Life can take away your heath, but it can't take away your attitude – that is something you decide.  Walk each day in anticipation that at any moment wonderful blessings can occur, despite your circumstances.  (Sorry, that was two sentences!)
Matt and Roger—also known as Team Camino-- embark on their journey February 25and hope to arrive in Santiago by April 6. We will be rooting them on from afar, and I personally want to wish my friends the best of luck on this journey.