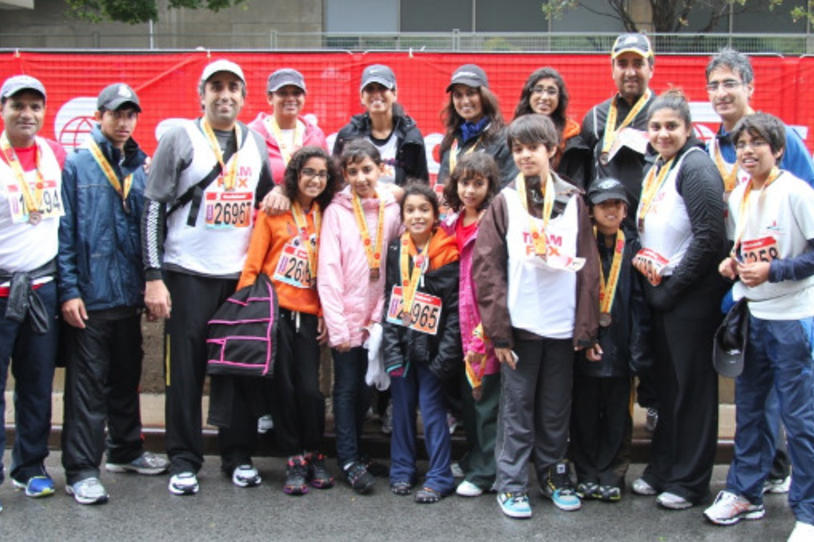 The Team Fox community brings together people of all ages. As part of this ongoing series, we talk with the Mathur sisters — some of our younger Team Fox members, who are getting an early start on raising funds and awareness for Parkinson's research.
Sarika (14), Neha (12) and Meeraya (8) Mathur
Ajax, Ontario
Toronto Waterfront 5K
Funds Raised: $16,665

Why Team Fox: We like to put a lot of effort into fundraising for Team Fox because our mother, Soania, has Parkinson's. Through Team Fox, we hope to educate others about this disease by raising awareness.
Why a 5K: We did the 5K because it was an event in which everyone (all 20 members of our group) could participate in, regardless of age or ability. Even with the torrential rain, we still managed to make the best of the situation and definitely enjoyed the experience.
Greatest challenge: People want to help, but sometimes you have to be persistent in reminding them. We don't feel awkward asking for money. It's not for us, it's for a great cause.
Greatest reward: The greatest reward for us really is knowing that we're contributing to a great cause, and that with just a little bit of work on our part, we can benefit the lives of many people — including our mom.
What's next: We plan on continuing our campaign "Pennies for Parkinson's." During this event we make an educational presentation to our classmates about PD, and we raise money through games and selling bracelets.
Best advice: Everything counts. Even if you donate a little, it makes a difference. We take so much for granted — and we have so much to be grateful for. Be proactive.
Read about other young Team Fox members.