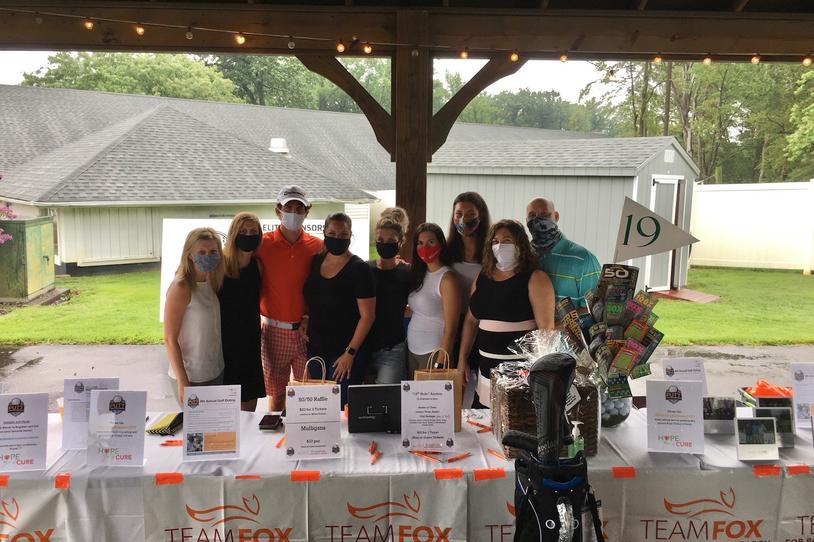 On Friday, July 31,the Russo family started on their most successful day of fundraising since joining Team Fox in 2013. Pandemic notwithstanding, how do you grow a golf outing from a group of 35 into one of Team Fox's top golf fundraisers? In the words of tournament director and Team Fox member Lou Russo, "You start by inviting the people that will support you and return year over year. Having a group of dedicated friends and family to help organize, promote and run the outing allows our event to get bigger and better every year!"
Many attendees at this year's 8th Annual Putt for Parkinson's Golf Outing were returning golfers — about 30 of whom have attended every event. With protective measures in place — social distancing, staggered flights, an adjusted program and limited capacity — the outing was able to safely take place and raise over $28,000 for Parkinson's research (more than three times the amount raised  when we spoke to Lou back in 2015!).
Lou follows a simple recipe for success: Start with your inner circle and grow by delivering an outstanding event that draws returning participants and brings in new faces each year. "The event is not possible without those that attend and participate," he says. Every spring, Lou makes an effort to thank returners and welcome first-timers. In addition to fundraising through registration fees, Putt for Parkinson's features sponsorship opportunities, a silent auction, 50/50 raffle and competitions like the Team Fox Cup, an ongoing playoff between foursomes with a winner announced every four years. The silent auction includes local sports memorabilia, top quality golf merchandise and complimentary rounds. By carefully tracking registration and learning which items guests prefer, Lou can prepare for a memorable day for all.
Lou also credits the outing's continued success to a core group of six volunteers that have helped run registration, check-in, the silent auction and raffle since the very first event. Especially in a year like 2020, every fundraiser needs a strong team that can support the changing demands of a growing event.
This year Putt for Parkinson's and the Russo family formed their own nonprofit entity (a 501c3), Hope For A Cure, enabling them to work more directly with sponsors and secure additional on-site vendors. Hope For A Cure also named a Board of directors to oversee their efforts: Lou Russo, Shannon Russo, Joanne Russo, Jen Snyder, Erin Ranjo and Robert McLaughlin. Lou advises growing events to "have a support system. You need Board members and volunteers to make the event smooth and successful." He says, when a fundraising event grows, the volunteer opportunities must grow, too.
Looking forward to 2021, Lou, the Putt for Parkinson's volunteers and the Hope For A Cure Board are planning to proceed with caution and an unwavering commitment to raising funds to cure Parkinson's. For Lou especially, the inspiration to keep moving forward comes from seeing his father navigate the challenges of Parkinson's for the past 12 years. "It's hard to watch anyone go through," says Lou. "Instead of sitting back, I wanted to do more to help The Michael J. Fox Foundation find a cure and improve treatments." Thanks to Lou's incredible determination, Putt for Parkinson's has raised over $110,000 for critical Parkinson's research to date.