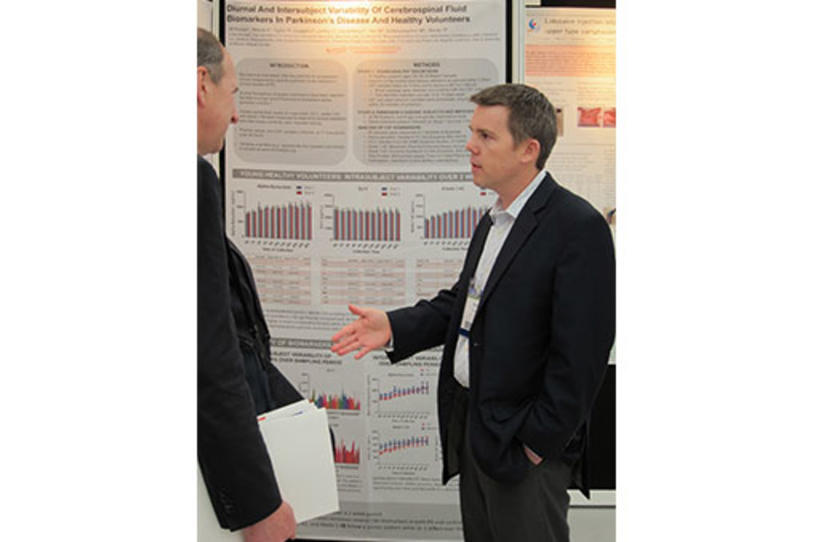 Fox Meeting Notes: We report on the latest news in Parkinson's disease research, live from the Movement Disorder Society International Congress in Dublin, Ireland.
As this year's Congress kicked into full swing, Mark Frasier, PhD, our VP of research programs, shared research results culled from the Parkinson's Progression Markers Initiative (PPMI), one of five such presentations this week highlighting progress being made in the landmark biomarker study. These are among the first published research results to be shared from PPMI.
Frasier's poster presentation focused on methods for gathering cerebrospinal fluid (CSF), which is found inside and around the brain and spinal cord and which may provide vital clues toward identifying PD biomarkers. As a large scale, multi-site study, PPMI leadership must work diligently to maintain standardized methods for gathering biospecimens from the study's volunteers, at the risk of skewing results. Among other things, this means paying attention to which outside factors (such as the time of day a sample was taken or what someone might have eaten prior to a test) could be misleading. This study found that the time of day that CSF is taken may affect how it is measured – important data to consider as the study moves forward into a phase of real data analysis.
Other highlights of the day included:
Frasier presented on Fox Trial Finder, MJFF's Web-based clinical matching tool which recently launched in Ireland and the United Kingdom. To date, more than 7,700 clinical trial volunteers have signed up, and more than 160 trials are recruiting and using the site.
Abbott Laboratories announced five abstracts being presented at the Congress, revealing positive results from a clinical study of its levodopa-carbidopa intestinal gel (LCIG). The study found that LCIG significantly decreased "off" time (when the medication's effects wear off) and increased "on" time without dyskinesia. To learn more about LCIG, watch this episode of The Parkinson's Minute.
The attendance numbers for the Congress are out, and they're gaudy -- This year's event is being attended by more than 4,500 physicians and medical professionals from 80 countries worldwide.