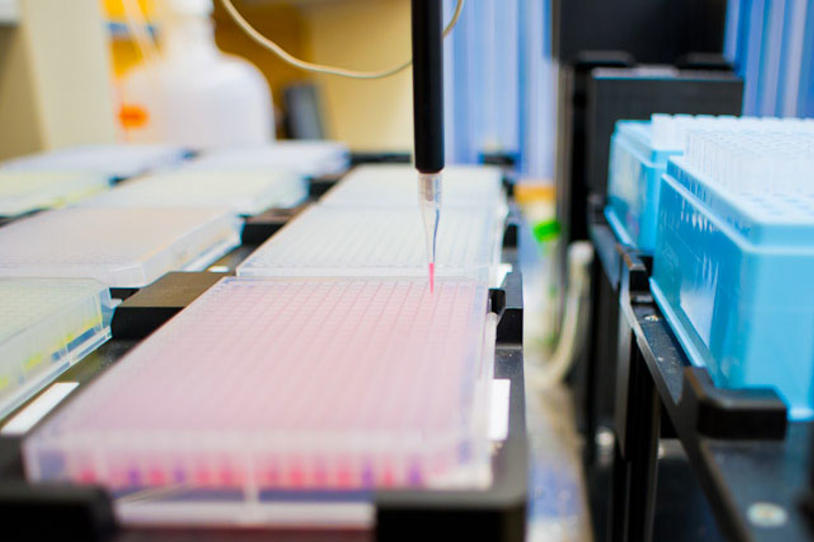 Vanderbilt–Bristol-Myers Squibb collaboration leveraging MJFF investment could push new paradigm of symptomatic treatment to the clinic by 2013
On the heels of nearly $5 million in Michael J. Fox Foundation (MJFF) investment, Vanderbilt University today announced a major collaboration with Bristol-Myers Squibb for the continuing development of a potential first-in-class symptomatic treatment for Parkinson's disease. If all milestones are met, the Vanderbilt team, led by Jeff Conn, PhD, is hopeful that an experimental drug could enter clinical testing as soon as 2013.
MJFF has partnered with Conn and his team at Vanderbilt since 2005 in pursuit of a new class of Parkinson's drug targeting the neurotransmitter glutamate. By bypassing the dopamine system altogether, a glutamate-based treatment could provide the same symptomatic benefits of levodopa while avoiding disabling side effects such as dyskinesia (uncontrollable movement). The Vanderbilt team has focused on a specific glutamate receptor called mGluR4.
"The long-term commitment of and collaboration with MJFF were critical to advancing this program to the stage where it is now perfectly positioned to work closely with Bristol-Myers Squibb for further development," said Conn. "Partnering with Bristol-Myers Squibb is a real win for Vanderbilt and for Parkinson's patients."
To minimize the likelihood of side effects, the drugs take a subtle approach to manipulating the mGluR4 receptor: "You can liken it to a dimmer switch on a light in your home," Conn explained in a 2009 interview, "where you can turn up the gain of the receptor and its activity, or turn it down, without completely activating it or shutting it off."
"This is big news," says Todd Sherer, PhD, CEO of MJFF. "It's the latest example of how de-risking speeds promising treatments toward clinical testing and patients."
De-risking is the Foundation's strategy to make research investments that build a compelling scientific case for the most promising new approaches to PD. This in turn builds the business case for further investment by funders with the resources to carry the work forward through the most expensive stages of clinical development and regulatory approval.
Learn more about the Foundation's investment in Vanderbilt's compounds, and their unique model for drug development, in last winter's edition of Accelerating the Cure.