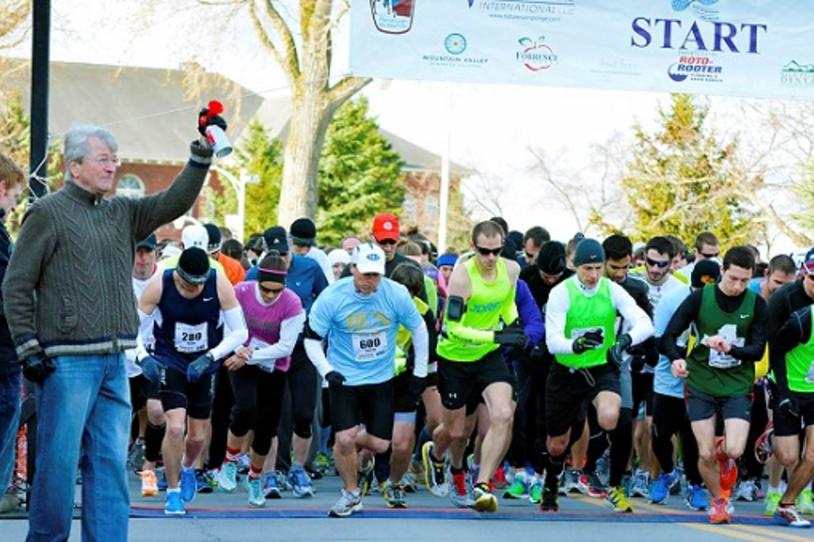 Runners looking to compete with Team Fox this spring will have plenty of options on Sunday, May 6 in Plattsburgh, New York. The upcoming Plattsburgh Half Marathon, Relay, 10K, and 5K offers runners of all distances the opportunity to support Parkinson's research with proceeds from the event benefiting Team Fox. As always, 100 percent of Team Fox donations go directly to The Michael J. Fox Foundation's programs to speed a cure.
After eight years hosting successful events, race organizers added the 5K option in hopes of attracting runners who struggle to keep up with training in the unpredictable New England springs. "Some years, it's really hard for runners to get the miles in," laughs founder and organizer Stephanie Desautels.
Stephanie joined Team Fox in 2009, when her father was diagnosed with Parkinson's disease. Eager to get involved in supporting research for a cure, she created the Plattsburgh Half Marathon in 2010 in his honor. It began as a half marathon (still the most popular event) and sold out at 500 registrants in the first year. Since then, it continues to grow in events and participants and is able to accommodate all interested runners, with no cap.
Runners from more than 30 states and Canada have traveled to Plattsburgh for the competition and upbeat atmosphere. Volunteers help to fill every mile of the route with spectators cheering, singing and motivating the runners. Local businesses, organizations and community groups sponsor mile markers, rallying cheering sections of at least 10 people in each section along the course.

It's a community-wide celebration. Sports teams from the local university and high schools enthusiastically operate the water stations, shouting encouragements and dancing to music. "The biggest feedback we get from runners is how much they love the support, the singing, the cheers," says Stephanie. "It's a really fun time. We really try to keep them motivated, to keep everyone going."
After the race, the entertainment continues at the post-party with food, awards and a silent auction. Over the years, the enthusiasm and energy surrounding the event has paid off: since 2010, the Plattsburgh Half Marathon has raised over $200,000 for Parkinson's research!
Although the weather may vary, the celebratory atmosphere never changes. And no matter the conditions, Stephanie's father, Richard Desautels, will be the one to kick off the race with the starting gun and congratulate participants as they cross the finish line.
Inspired to join the fun? It's not too late to sign up. All Team Fox members who register will receive a discount using code FOXY.
Discover more ways to make the most of your miles by becoming a Team Fox Athlete.
______
Laura Amann is an award-winning freelance writer who contributes personal stories about living with Parkinson's to the MJFF blog.