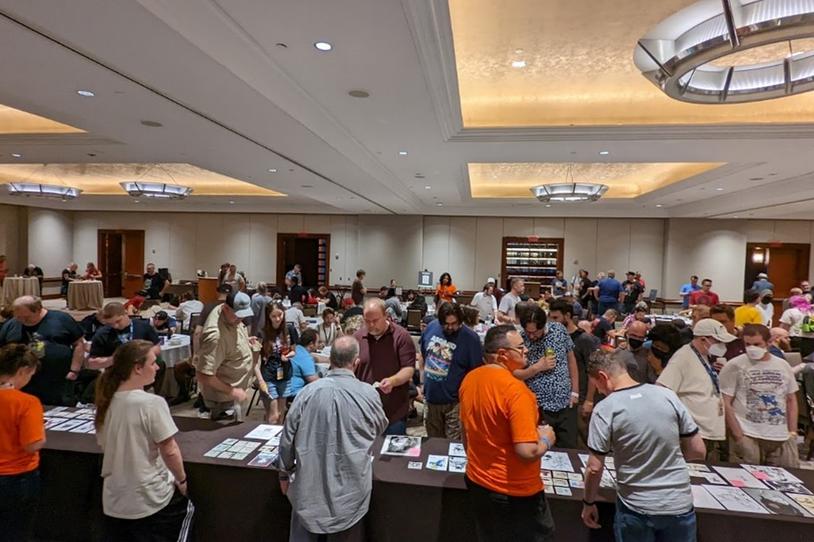 This year has been a significant one for three of our Team Fox fundraisers who have all rallied around a shared passion: finding a cure for Parkinson's disease (PD). In 2022, Putt for Parkinson's, Team Cul de Sac and the West Virginia Fox Trot all reached an incredible Team Fox milestone: 10 years of hosting fundraising events for Parkinson's research.
 
Putt for Parkinson's: Putt for Parkinson's is an annual golf tournament sponsored by Hope for a Cure — a nonprofit organization founded by the Russo family in honor of their father Louis, who lives with PD. Held annually in Mount Laurel, New Jersey, the two-day golf event has raised over $200,000 and grown from just over 40 attendees to more than 500!
Team Cul de Sac: Chris Sparks created Team Cul de Sac (TCDS) in honor of his friend Richard Thompson, the cartoonist behind the Cul de Sac comic strip, who lived with PD until his passing six years ago. Cartoonists across the country contribute by drawing Thompson's characters and TCDS compiles the artwork into a book for fundraising. They also host a "Drink and Draw" event in Charlotte, North Carolina, after the first day of Heroescon (a comic book convention), and have collectively raised over $230,000.
 
West Virginia Fox Trot: Following a PD diagnosis, George Manahan decided to host a 5K Run/Walk to unite the local Parkinson's community. In 2013, just under 200 people attended the first Fox Trot 5K, which also led to the creation of a local PD support group, with 40 people who met at the event. In the past 10 years, the Fox Trot has more than doubled its participation, raised over $510,000 for PD research and through their policy initiatives, they were able to pass, through legislation, the nation's fourth Parkinson's registry.
For those considering starting a Team Fox event, or for others interested in learning more about what it takes to run a 10-year event, check out this Q and A with Lou Russo (Putt for Parkinson's), Chris Sparks (Team Cul de Sac) and George Manahan (West Virginia Fox Trot).
MJFF: What has been the highlight of the last 10 years?
Lou: The unwavering support from hundreds of family, friends and strangers (who are now friends) has allowed Hope For A Cure to grow exponentially each year. Our family is so touched and thankful to all of our amazing supporters and can't wait to see what the future holds.
Chris: The friends I have made in the Parkinson's world and cartooning world. The outpouring of love for our "Drink and Draw" at Heroescon each year has been amazing. The biggest highlight was after this year's "Drink and Draw" event. My daughter, Emily, who is 13, has been involved almost every year and this year she sat me down to tell me she wants to take over for me if a cure isn't found in my lifetime.
George: The highlight has been seeing a new Parkinson's community form with the sole purpose of helping and supporting each other. From nothing, we have started support groups, weekly exercise classes, raised money for research, shaped Parkinson's policy and more. The Fox Trot was the start of all that.
MJFF: What is one piece of advice you would give other Team Fox fundraisers?
Lou: Surround yourself with a good support staff and committee that are equally as passionate about finding a cure for Parkinson's. This will allow you to properly handle the year-to-year growth of your fundraiser/event. Without the help of my family and friends, our charity's success would not be possible. Thank you to our entire Committee/Board and all the volunteers and helpers over the years who have helped make our event so special for those who attend.
Chris: Believe in yourself. Ask for help. Every team is pulling for the other teams. You can do it just like I have with the support of Team Fox, family and friends.
George: My one advice to other Team Fox members is to "just do it." You can't fail if you raise one dollar. You will learn from the experience and next year you will be better. We are still learning after 10 years. Don't lose the fact that you are building a community of people that will help each other throughout the years.
Ready to get started? Click here to create your 2023 Team Fox Fundraiser today!
The Putt for Parkinson's Team Fox fundraiser crosses the 10 year milestone.

The West Virginia Fox Trot crosses the incredible Team Fox fundraiser 10 year milestone.