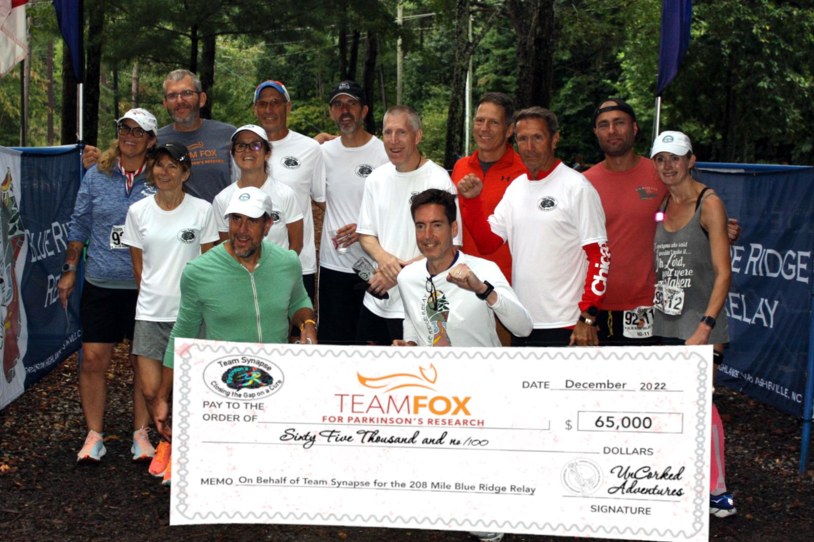 The empty feeling I have had for the last five months (like a homebound kid, watching friends play from a window), along with my Parkinson's disease (PD) symptoms, are finally beginning to regress. As I reenter society and ramp up my training in the wake of recovering from six broken ribs, the positive impact of intense exercise on both my mind and body has been instrumental. Over these past months, I've had a lot of time to reflect and, in the process, have learned a lot about myself across life's spectrum. From the mundane truth that I'm just not a fan of Chicago-style "pizza" to the realization that one of the best motivators to ensure I'm exercising intensely is to have a competition I'm committed to in the near term.   
So, what's next? 
Well, after conquering the mountains of North Carolina and Virginia while completing the Blue Ridge Relay last fall, Team Synapse (an incredible team of individuals from across the U.S. who are all living with PD) is expanding and coming together again on December 1 and 2, 2023 to take on the last relay race of the year, the Ragnar Trail Florida. Team Synapse will form two teams of eight to take on the 32-hour race in Alafia River State Park. Each team member will have to complete a series of three different trail runs, for a total of 16 miles per runner. 
The upcoming Ragnar race requires roughly a 15-minute mile average pace which is much more forgiving than the 10-minute average pace for last year's Blue Ridge Relay. This allows us to have a much more inclusive team. Also, since the Florida trail course is a loop race, all teams will share the same basecamp. This will be great to cheer each other on, commiserate between teams and so much more. 
There is something so magical about taking on a challenge with a team of inspirational people who don't let their limitations define or hold them back. This remains true for the recently reformed Team Synapse. So, it was no surprise that when we needed eight people to complete the first team for the upcoming Florida race, all eight spots were immediately claimed by members of last year's team.  
One of the first teammates to say yes again was Jason Kopacz, who sees the power of gathering a group of runners that all live with PD. "Everything in the life of a person with PD takes a little more — a little more time, a little more patience, a little more motivation to fight back against this relentless disease," says Jason. "It takes a little more to be a part of Team Synapse — this special team of individuals that has walked off the Blue Ridge Mountain successfully in our mission to raise funds and awareness for the PD community. And who will complete our next challenge together again."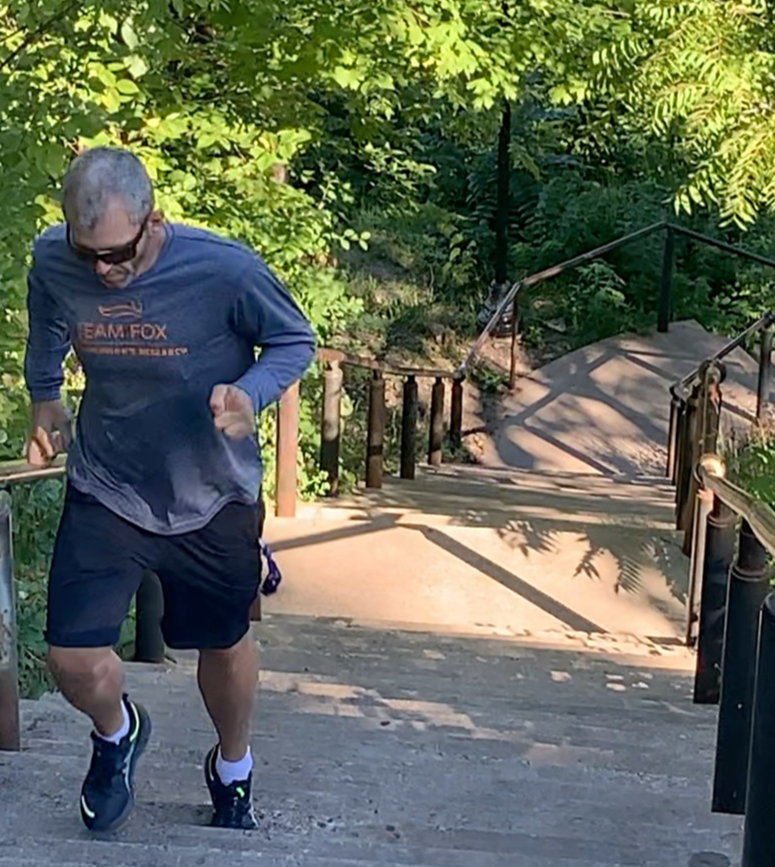 It's hard to explain how the experiences and interactions that naturally happen when teams come together to take on challenges forge lasting friendships and reignite existing ones. One of my teammates for the Blue Ridge Relay, Jacqui Sukie, is ready for these relationships. "Last year, I willingly spent a weekend crammed in a van with six strangers who became a team, and who I am now privileged to call my friends," says Jacqui. "I ran alone on a rain-slicked dirt road unaware of what state I was in, all while knowing that my well-being and successful attainment of my goal to finish was in the hands of people I had just met, 100 percent confident that they had my back. This year, I can't wait to do it all again."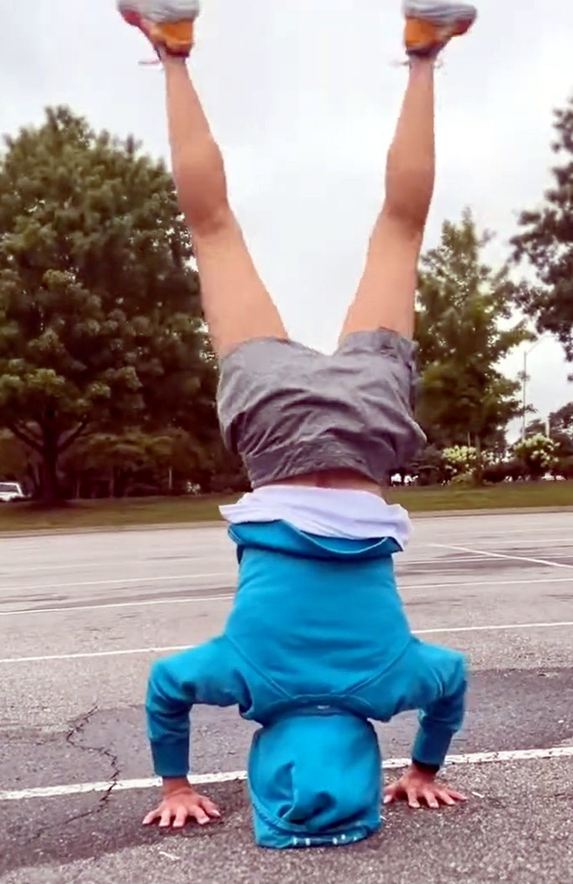 Even before the Blue Ridge Relay, I ran multiple races with other Team Fox members, and many of these relationships have turned into real friendships that show you the importance of a positive attitude. One of these longtime friends who continues to do this is Joyce Chu. Joyce doesn't run — she floats. She appears to move effortlessly, almost skipping stride to stride, and always with an infectious spirit and a huge smile. In all the crazy races and adventures that I have been in around the world, I've never seen anyone like her. 
We are so thrilled that Joyce will be joining Team Synapse in December. "After I participated in the 2015 Rock the Ridge Relay with Bill Bucklew and other Team Fox fundraisers, I realized what it means to be part of the Team Fox family," says Joyce. "Family members and friends went over the top to support all the runners who participated in the event. I really look forward to experiencing this again by running with other Parkinson's athletes and spending all my time at the campsite with them."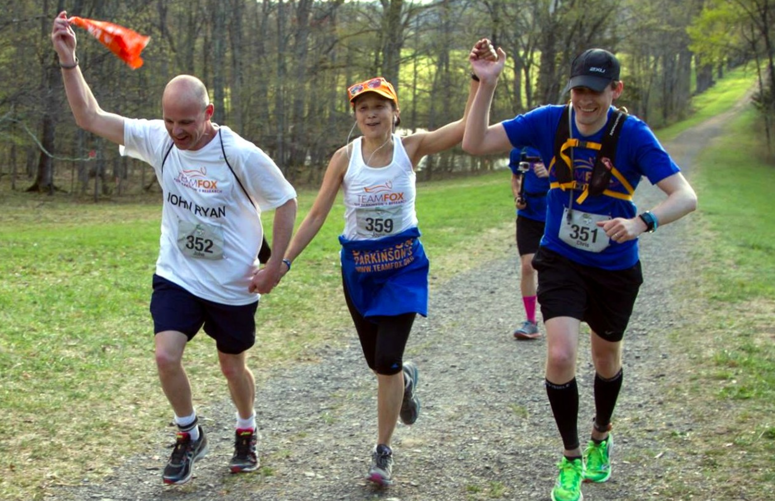 So that old familiar feeling is here again. I'm energized to start my training and I can't wait to reconnect with all of my old friends from the 2015 and 2022 teams. I am also excited that we can expand the team with some new members this year. I greatly look forward to developing new connections and friendships as we all come together to raise awareness and funds to put an end to Parkinson's disease. 
Ready to join this group of PD athletes? We are still looking to fill a few more spots for the Ragnar Trail Florida Relay in December.  
To donate or otherwise support Team Synapse, please click here. For any questions, please email bill@uncorkedadventures.org. 
---
Since his diagnosis in 2012, Bill Bucklew has dedicated his life to helping people with Parkinson's disease live their best lives possible, while we all work together to find a cure. Bill lives with his wife and two children in the northern suburbs of Chicago, Illinois.