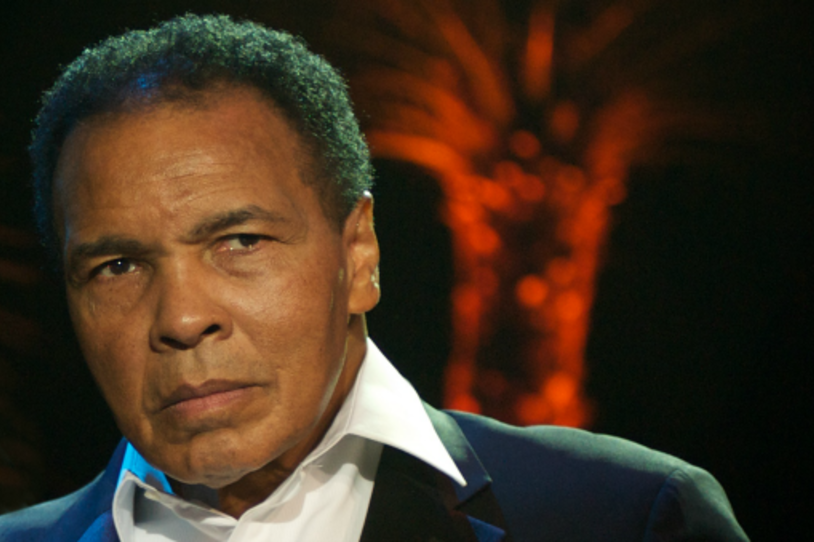 The Michael J. Fox Foundation mourns the loss of Muhammad Ali. His iconic presence and indomitable spirit inspired millions (including countless members of the Parkinson's community) throughout his extraordinary career as an athlete and humanitarian.
"Muhammad was a true legend -- a champion in the boxing ring, and a champion for millions of Parkinson's families," says Michael J .Fox. "We looked up to him as an example of grace and courage in the face of great challenges. He will be missed."
A boxing career on the world stage
Ali (then known as Cassius Clay) erupted onto the world stage when he took home the gold medal for boxing at the 1960 Rome Olympics. He transfixed audiences with his speed and grace in the ring coupled with tremendous charisma, and soared to levels of fame and adulation unprecedented for an athletic champion. (Michael himself has said: "If I ever want to be invisible, I'll walk into a room with Muhammad Ali.")
In 1964, he became "Muhammad Ali" and a household name, appearing on televisions and magazine covers worldwide.
Parkinson's and a second career as a humanitarian
Following two decades in the ring, and in the sports limelight, Ali retired from boxing in 1981, shortly before being diagnosed with Parkinson's disease at 42. With his wife, Lonnie, by his side, he shifted focus to advocate for dozens of causes across the world. From hand-delivering food and medical supplies to children in developing countries, to visiting countless soup kitchens and hospitals in the United States, Ali quickly became as well known for his humanitarianism as his athleticism.
His boxing legacy remained unmatched throughout his life, and in 1999 he was included at number three on ESPN's list of "Athletes of the Century."
Work with Michael J. Fox
In 1998, Michael J. Fox shared his own diagnosis of Parkinson's with the public. Soon he and Ali joined forces to shine a spotlight on the critical need to fund research, including a joint appearance before Congress in 2002. Lonnie Ali also embraced her role as caregiver, serving on The Michael J. Fox Foundation's Board of Directors from 2001 to 2004. The couple was appointed to the Foundation's Founder's Council in 2008.
Lonnie has continued to serve as a leader in the caregiver community, sharing her own experiences caring for Ali as the couple and family navigated their Parkinson's journey.
The Muhammad Ali Center
In 2005, the Alis established the Muhammad Ali Center in Louisville, Kentucky, which preserves the Ali legacy for future generations, promoting tolerance and understanding among different people, communities and nations.
Muhammad was the recipient of countless awards recognizing his humanitarian efforts and has been honored by Amnesty International with their Lifetime Achievement Award.