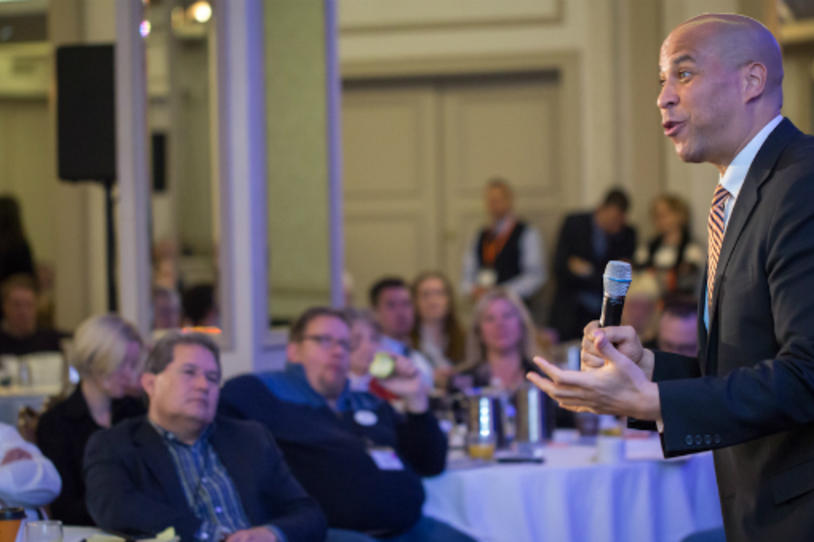 Yesterday, Senator Cory Booker (D-NJ) joined nearly 300 people with Parkinson's disease (PD), their families and other community members in Washington, D.C. to deliver a keynote address at the 2018 Parkinson's Policy Forum. Parkinson's is an important issue for the senator, whose late father lived with the disease for many years. During his speech, Sen. Booker discussed his family's experience with PD, the need for robust Parkinson' research funding and the importance of speaking up for what is right. (View his full remarks.)
"My dad showed me what courage was about as he struggled with this foe of Parkinson's," said Sen. Booker. "And more than that, he showed me what the power of the community is about. About people who were there for him, who counseled him, who laughed with him. About folks who understood the complexities of the challenges."
Although we've made modest progress in raising the National Institutes of Health budget in recent years, the senator noted that "we should be demanding more." For the nearly 1 million people living with PD, the estimated 60,000 new individuals who will be diagnosed each year, and the millions of caregivers across the country, "there is an urgency in what we ask for," he added.
"I tell each and every one of you, what you do matters. For a generation not yet born that might be alleviated from the disease that we struggle with today, what you do matters. And I believe if we stand up, and we fight with that spirit, that we can change the world."
The Parkinson's Policy Forum is an annual event that brings people with PD and their loved ones to our nation's capital to advocate for our community. The event began with two days of advocacy training sessions and educational panels. Attendees heard from legislative experts, scientists and health care professionals on the latest developments in PD research, and learned about current policy issues impacting patients and care partners. You can view these panels from your own home by visiting The Michael J. Fox Foundation Facebook page.
Today, Wednesday, March 21, join people with PD and their loved ones for Parkinson's Advocacy Day. Community members in Washington, D.C. and across the country will be asking Congress to stand up for increased Parkinson's research funding on this day of action. Add your voice to these efforts by emailing your legislators now!