Loss of sense of smell is a common but little noticed symptom that may occur years before motor symptoms or a Parkinson's diagnosis. Some studies use smell loss to identify people who may be at risk for Parkinson's disease.
Losing Sense of Smell
Most people do not connect losing their sense of smell to a Parkinson's diagnosis. After developing motor symptoms and talking to a doctor, however, they may recall that years or even decades earlier their ability to smell decreased. This condition is called hyposmia and can impact quality of life — affecting taste and, in some cases, leading to weight loss.
Parkinson's and other neurological conditions, such as Alzheimer's, can cause smell loss. But there are many other causes, too:
Upper respiratory infection, such as the common cold

Nasal problems, such as seasonal allergies or chronic sinus disease

Head injury, if it damages the olfactory nerve or brain's smell-processing centers

Cigarette smoking

Aging
Smell Loss and Parkinson's Disease
While scientists do not know why smell loss occurs in Parkinson's, one popular theory is that the Parkinson's process may start in the olfactory bulb, the part of the brain that controls sense of smell, and the gut. Some researchers believe clumps of the protein alpha-synuclein (a hallmark of Parkinson's disease) may form in these parts of the body first, before migrating to other parts of the brain.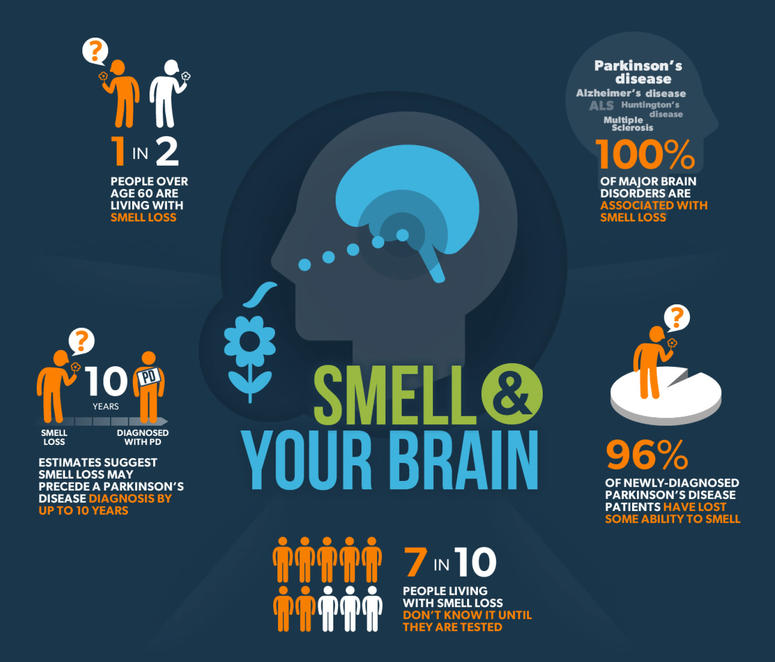 Smell Loss as a Potential Diagnostic Tool
While there is no treatment for smell loss, this symptom is valuable in research toward earlier diagnosis and therapeutic intervention.
Early detection is a crucial step to understanding the causes of and developing better treatments for Parkinson's disease (PD). Even before the typical tremor and slowness of movement occur, it may be possible to detect early changes in the brain and symptoms that are associated with PD.
The Michael J. Fox Foundation's landmark study, the Parkinson's Progression Markers Initiative (PPMI), is studying people with smell loss. Some people who enrolled in PPMI with only smell loss have since developed Parkinson's disease. By looking back at the brain scans and blood tests those volunteers contributed before their Parkinson's diagnosis, scientists can understand what is happening in the earliest stages of the disease. That information could lead to early diagnostic tests and treatments to slow or stop Parkinson's progression, perhaps before tremor or slowness begin.
---
The medical information contained in this article is for general information purposes only. The Michael J. Fox Foundation for Parkinson's Research has a policy of refraining from advocating, endorsing or promoting any drug therapy, course of treatment, or specific company or institution. It is crucial that care and treatment decisions related to Parkinson's disease and any other medical condition be made in consultation with a physician or other qualified medical professional.
Be Part of the Answer
You have the power to impact your future and the future of millions living with Parkinson's disease. Explore clinical research participation today.
Join a Study