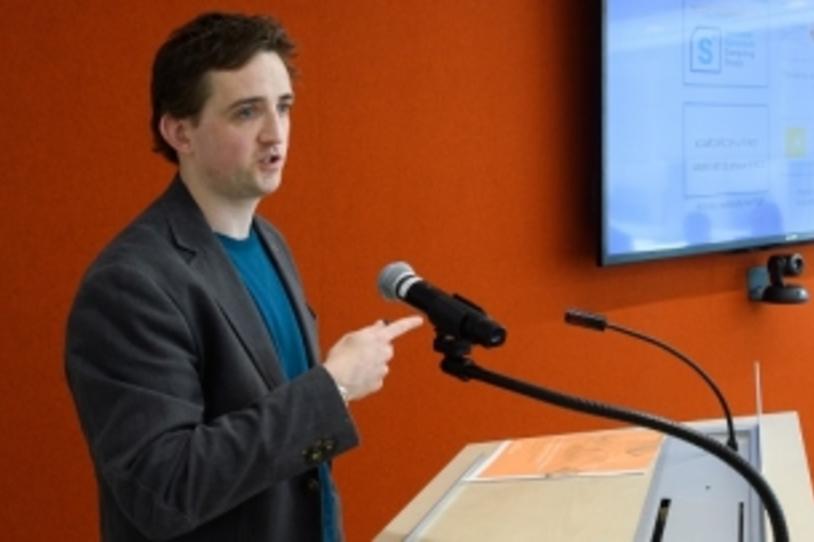 On any given day, David Breen, BSc (Hons), MBChB, MRCP (Neurol), PhD, collaborates with clinicians and researchers in several different time zones. One of the first five fellows to graduate from The Edmond J. Safra Fellowship in Movement Disorders in 2018, Dr. Breen is applying his specialized training and tapping into a worldwide network of colleagues to bridge the divide between Parkinson's disease research and care.
The Michael J. Fox Foundation (MJFF), in collaboration with the Edmond J. Safra Foundation, launched The Edmond J. Safra Fellowship in Movement Disorders in 2014. The program addresses a critical gap in funding to train movement disorder specialists and aims to grow the global base of clinician-researchers delivering expert patient care and leading research into their patients' disease.
"I took the fellowship to get the highest quality of clinical training out there. It gave me experience in the full range of movement disorders alongside training in advanced Parkinson's therapies," says David.
After completing his fellowship at Toronto Western Hospital in Ontario, David returned home to Edinburgh, Scotland. "It's been nice to take that comprehensive training and bring it back to where I came from in the UK," he says.
Currently, David is working with colleagues in Edinburgh and elsewhere in Scotland to develop a platform that will gather routinely collected clinical data as well as genetic and other information from every patient they treat. This data can help researchers better understand what drives disease progression and connect patients to clinical trials. "We've got such a motivated group of people affected by Parkinson's in Edinburgh and they haven't had a huge amount in the way of research until now. We are working together to change that," says David.
While building this clinical and research program in Edinburgh, David continues work he began with other researchers in Toronto. Recently, he also received independent research funding (the Wellcome Clinical Research Career Development Fellowship) to study the influence of sleep and circadian disruption on brain health using existing large data sets.
"One of the biggest legacies of The Edmond J. Safra Fellowship in Movement Disorders is the network of people that stay in touch. Not only do I still have ongoing research projects with people in Toronto, but the dialogue with other fellows continues so we can do everything from plan collaborative research projects to just share clinical experiences," he says.
David also is helping to shape the future of The Edmond J. Safra Fellowship in Movement Disorders. He recently served on the selection panel to determine the five centers to host the Class of 2022 Edmond J. Safra Fellows. "The program selects the highest quality sites where people train and then can take their expertise back to wherever they're from. Gradually the excellence spreads to different parts of the world," he says.
By 2022, the program is on track to graduate 26 new movement disorder specialists around the world.
"Everyone's a winner," says David. "The Edmond J. Safra Fellowship benefits physicians, patients and the training centers as well. The generous funding of the program was extremely forward-thinking and I hope it will reap its rewards."