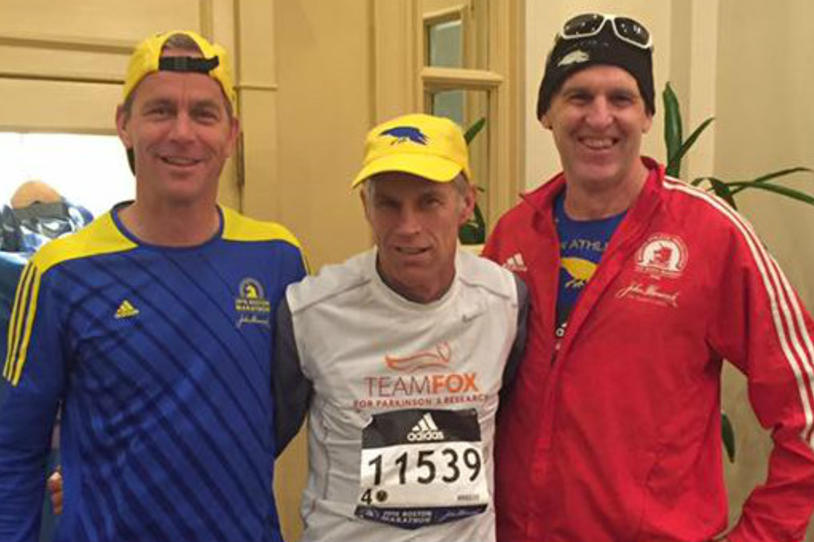 In the months since Team Fox member Michael Westphal completed The Great Run on Cranberry Island in Maine — his first marathon in 23 years — his story of triumph has continued to resonate strongly within the Team Fox community.

Nominated as keynote speaker for this year's Team Fox MVP Awards Dinner, last Friday Michael stood before a crowd of more than 500 fellow Team Fox members and supporters to share what this year has meant to him: 
Ten years ago [when I was diagnosed with Parkinson's], I wasn't sure how happy I would be, but this year has turned out to be one of the most fulfilling of my life. Raising funds for a purpose enriches your life. And I'm going to continue supporting Team Fox, because I believe that by working together, we can and we will succeed in finding a cure.
Following The Great Run [in June], I finished the Mount Desert Island Marathon in October. And on Monday, I'll be running the Boston Marathon… proudly wearing my Team Fox jersey with the words "Outrun Parkinson's" in bold letters on the back. And each mile along the way, I'll be thinking of this incredible [Team Fox] family. 
While my goal is to finish, my ultimate goal is to inspire — to inspire others to step outside of themselves and attempt something they never thought possible.
On Monday, April 18, Michael Westphal successfully finished the Boston Marathon with a time of three hours and 38 minutes. And as demonstrated in the documentary "Outrunning Parkinson's," Michael has accomplished his larger goal — motivating others every step of the way. 

Feeling inspired? Join Team Fox for an upcoming athletic event and make the most of your miles in the race to cure Parkinson's