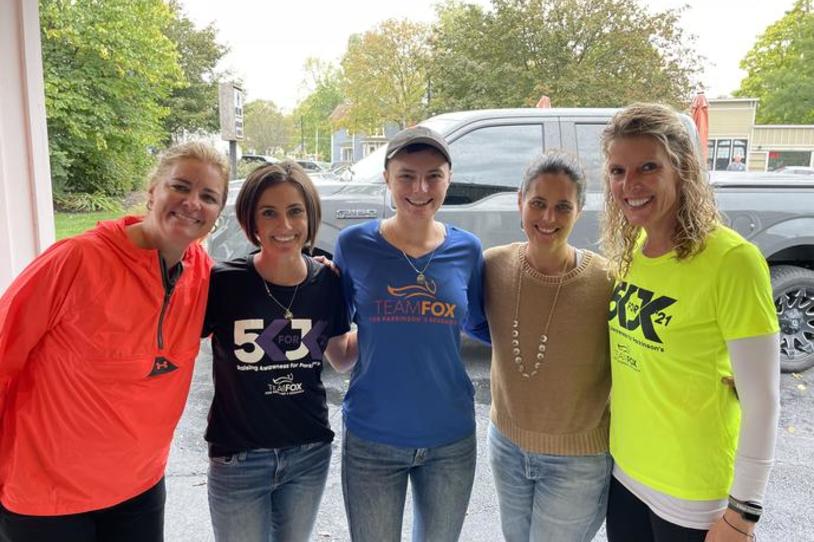 The following story appeared in our Fall/Winter 2022 edition of The Fox Focus on Parkinson's newsletter. For this story and more, download the full edition. 
In 2019, when Jessica Krauser of Powell, Ohio, was diagnosed with young-onset Parkinson's disease (YOPD) at 37, she felt relief. After years of experiencing symptoms and knowing something was off, she finally knew why.   
Of course, hearing the diagnosis wasn't easy. At the time, she was going strong in her career in pharmaceutical marketing consulting and had young twins. "My husband took it hard at first because his mind started to go to the worst place," says Jessica. But she had done her research. "I was scared, but not that scared. I knew that there were steps I could take to manage and slow my symptoms," she says.  
She started medication and joined a local gym for people with Parkinson's. Then COVID-19 hit, and she found herself burnt out, not prioritizing her health. In 2021, she made the difficult decision to step back from her work for a while.  
Not long after, she received a surprise that changed everything. "Since my diagnosis, my friends were unsure how to help me because from the outside, I'm fine," says Jessica, "but they know me best." She showed up to dinner and her friends were wearing shirts that said 5KforJK. They had created a 5K running event to benefit Team Fox, MJFF's grassroots fundraising program, and scheduled it for that October.  
Over the next few months Jessica got back to her exercise regimen, adjusted her medication and jumped headfirst into 5KforJK. The inaugural 5KforJK attracted over 400 runners and raised $86,000 for Team Fox, plus another $10,000 for the local PD community. "I want a cure in my lifetime, but I also support research for my kids and their generation," says Jessica.  
While planning for the second annual 5KforJK this October, Jessica is using her marketing background to expand 5KforJK's footprint. "It's important to me to educate others that you can live well with the disease," she says. She started a podcast, formed a 501c3 nonprofit organization and is considering adding other events in different locations. She's tapping into Team Fox's network for expert advice on taking her fundraising to the next level. 
During Parkinson's Awareness Month in April, Jessica also found a new outlet. A video about her experience as a mother with YOPD was posted on MJFF's social media and within days she started getting messages from women who related to her story. Since then, a group of nearly a dozen women has formed, connecting via FaceTime monthly. "For years, I wanted to meet mothers with YOPD who have the same questions I do," says Jessica.  "I hope to continue to help others live their best lives with PD."