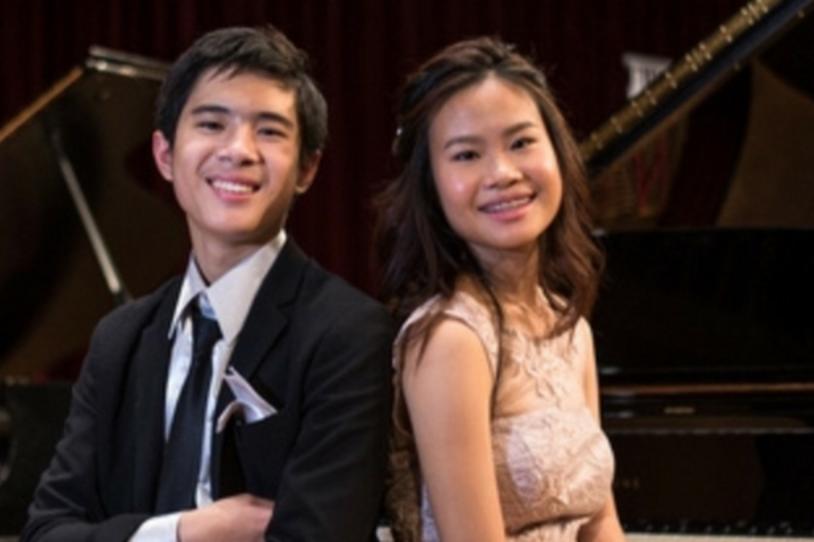 Siblings Melodey and Marc Soong from San Gabriel Valley, California share a love of classical music and a passion for advancing Parkinson's research. Seeing their grandmother live with Parkinson's disease (PD) has motivated them to educate more people about the disease and the need for a cure. So, in October, Melodey, 16, and Marc, 14, put their musical talents to good use, holding a benefit concert in honor of their grandmother to support Team Fox.
As winners of several local and international piano competitions, such as the American Protégé International Piano and Strings Competition, it was hardly their first time on stage. Yet, it was a performance with tremendous impact. The concert attracted nearly 150 guests and raised more than $8,000.
Melodey opened the concert, playing a variety of pieces by Tchaikovsky, Schumann and others. Marc also performed several solos and was joined by their piano teacher, Dr. Vladimir Khomyakov, for a piece by Rachmaninoff. The concert's grand finale was a two piano duo featuring Melodey and Marc playing F. Liszt's Hungarian Rhapsody No. 2.
Beyond fundraising, the Soongs use music "as a way to connect with others" and have recognized its ability to "lift other people's moods." They regularly perform recitals at local nursing homes.
Their advice for other teenagers looking to fundraise? "If you're interested in helping raise awareness for issues such as Parkinson's disease, you should do it! It is crucial for our generation to help others and to be kind to one another. Use your talents for good!"
Read more on the impact of music in Parkinson's.
Whether your passion is music, hosting parties or getting outdoors, you can find a Team Fox event that matches your interests. Find one in your area or learn about creating your own fundraiser to help speed a cure.