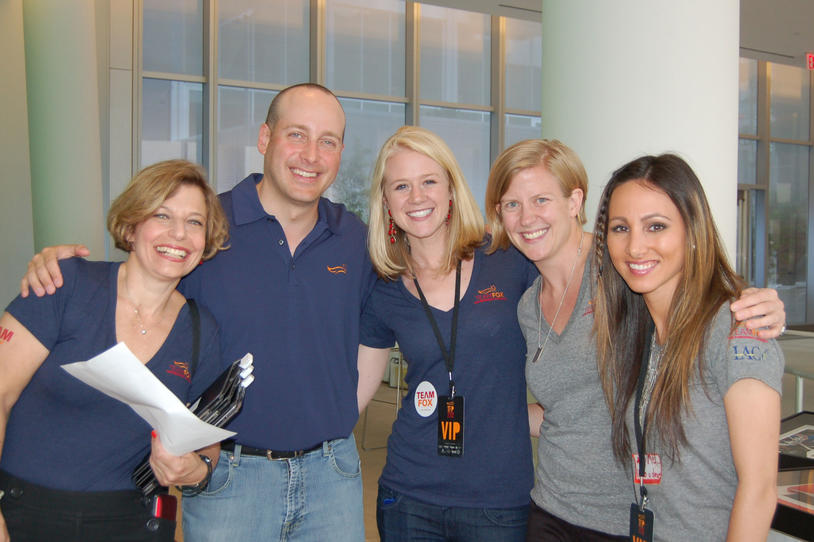 Susan Bilotta is at it again this time with her 7th Annual Tips For Parkinson's. The event took place on May 23rd at the IAC HQ in New York City. We caught up with Susan to see how it all went! Be sure to check out our video too, 'The Making of Tips."
Team Fox: This was your 7th Tips for Parkinson's, how did the event change or grow from last year?
The event is based on a bartending competition where teams compete prior to and during the event.  We had nearly 675 people attend this year's event which is 75 more than last year.  I think the event grew this year because the bartending teams embraced the cause and encouraged corporate matching.  We had 2 additional bartending Teams and one of the teams was a group of people I only met once.
We became more automated which helped a great deal both with check in, behind the bars and silent auctions. The biggest difference this year and which surprised everyone including me was that Michael J. Fox came by the event and thanked everyone and sang happy birthday to me.  The defining moment for me was when he spoke to my Mom. Having Michael attend made the biggest difference and meant a lot to me but meant a lot to all those who attended Tips. A lot of the people who attended Tips have been coming from the very beginning.
Team: Tell us about Tips For Parkinson's and how it got started.
When The Michael J. Fox Foundation created Team Fox - Tips was born.  When I was told about the concept of Team Fox - I knew exactly what I wanted to do and the event would be in honor of my Mom.   Through Team Fox I have met so many incredible people, those living with Parkinson's, those who are caretakers/family and those who do not have a connection to Parkinson's.  TFP is for my Mom, but it is also for all my friends in the Team Fox community/family. All my friends like to go to happy hour and I thought the only way I could get people to turn up after a days work would be to have a guest bartending event inviting folks to bartend and invite their friends.   Get people together for a cause.   At first it was just the cover charge ($20) and tips the bartenders made; and in 2006 we raised $12,000 and about 75 people attended.  People had fun and the second year I asked friends to bartend as teams and the team with the most Tips received Apple gift certificates and we raised over $20,000.  Each year I would expand the event around the bartenders and we introduced Silent Auction items.  After 2009 we outgrew the space and moved to a larger bar and outgrew that bar too.  In 2010 due to the generosity of IAC and the help of a great friend we moved to IAC lobby and we continued to grow.  Tips is fun for a cause. I am very fortunate to have incredible friends, family and colleagues who have all embraced the cause.
Team Fox: What was the most difficult thing about putting this event together?
By moving to IAC and using raw space to create a bar there is more detail and more has to be done (rentals, catering, music, lighting).  All the extra work and coordination is all worth it.  IAC took Tips to the next level it has become an event that people look forward to.  TFP brings people together.   I no longer know everyone in the room and that is such a great thing.  That means more people will know about Team Fox and The Michael J. Fox Foundation.  Through Tips I get phone calls from people who have been touched by Parkinson's thanking me and looking for help.  That means a lot.
Team Fox: What was your favorite part about the event?
Hands down when Michael J. Fox walked into IAC and spoke to to the crowd. What moved me the most was when he spoke to my Mom.   This was an incredible compliment and I was so so so touched. It meant a lot to me and to all those who attended. You just can't replicate that moment/feeling. Michael does so much for The Foundation and the Parkinson's community and it has to take a lot out of him; for him to take time (which is so valuable) to come by like he did that night was simply amazing. People come to Tips for various reasons, but no one there came expecting to see Michael. The fact that Esme Fox made cookies for Tips was also another favorite item we had at Tips. They were all eaten and enjoyed.
Team Fox: Anything else you'd like to share?
Thank you Team Fox, family, friends and the incredible bartending teams for making TFP what it is today.  You all provide the inspiration to make it better each year.  If anyone told me 7 years ago we will raise close to $500,000 I would never have thought that.  My theory is a lot of littles makes a lot and that is truly what Tips is...a lot of people making a difference.