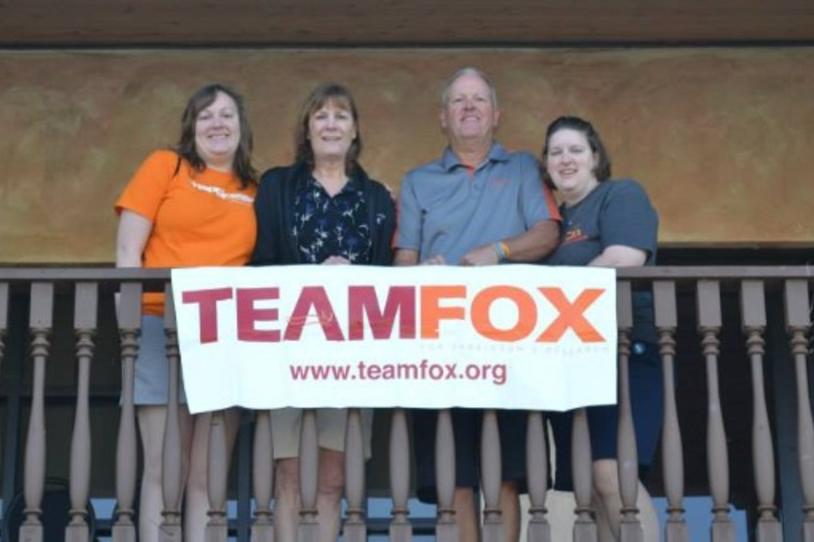 Since his diagnosis with Parkinson's disease (PD) in 2006 at 58, Bob Harmon and his entire family have sprung into action to help speed a cure in our lifetime.
It started with Bob's decision to enter a seven-year Phase 3 clinical trial at the National Institutes of Health. His experience as a research participant was so positive that he was among the first to sign up for Fox Trial Finder, The Michael J. Fox Foundation's clinical trial matching tool, when it launched in 2011. Today he is a Fox Trial Finder Ambassador, educating others about the importance of clinical trial participation and demystifying the process of getting involved.
"We saw Dad taking steps to play an active role in finding a cure, and we knew we could follow his lead," says one of Bob's 28-year-old twin daughters, Kate.
Today, the entire family is involved in clinical research. Kate and twin sister Emily registered on Fox Trial Finder, recognizing that trials need people who do not have PD as well as patients. Mom Cecily is a control volunteer in the MJFF-sponsored Parkinson's Progression Markers Initiative, a five-year clinical study to identify a biomarker for PD.
And the Harmons' involvement goes beyond research participation. To manage his symptoms, Bob practices Tai-Chi daily and plays golf five times a week. (In fact, he shot his first hole in one just this past month.) So perhaps it's no surprise that the family has parlayed his love of golf into an annual Team Fox tournament that raised $50,000 in 2013 alone. This year, Kate followed her Dad's lead once again and launched her own fundraising event, Pints for Parkinson's.
When Bob shared his story in a powerful YouTube video, it reverberated across Facebook, garnering hundreds of views and shares. Today the family shares their adventures in Parkinson's activism as support group facilitators and on their own blog, Parkinson's Cure Research Funding, Inc.
"The work we're doing is not unique," says Bob. "The Parkinson's community is a powerful resource." Taking stock of how his family has stepped up, he adds, "When people who don't have to, but choose to participate anyway… it's just awesome."
Sign up for Fox Trial Finder today to find clinical trials in your area that need someone like you.