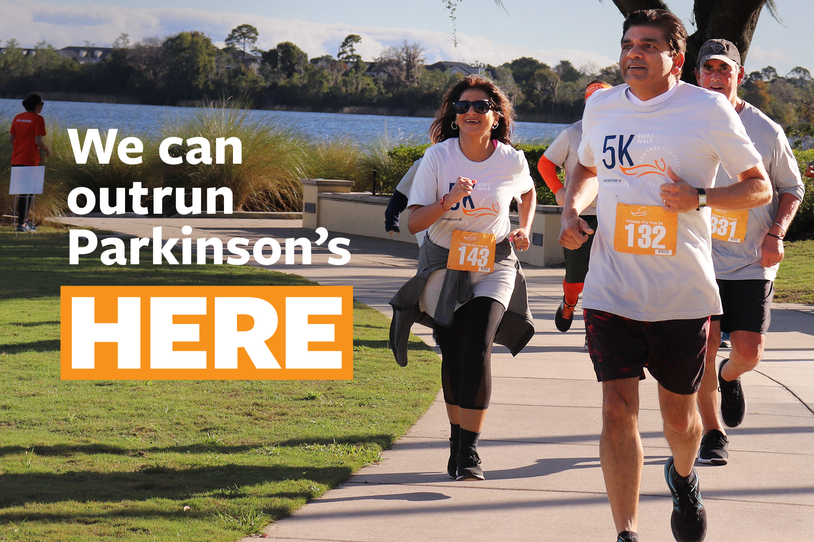 This weekend, The Michael J. Fox Foundation (MJFF) hosted its first-ever Virtual 5K/10K, inviting runners and walkers to choose their own course, distance and start time, and join the race to support Parkinson's disease (PD) research.
From neighborhoods, parks and treadmills worldwide, nearly 5,800 individuals laced up for the Virtual 5K/10K — including 400 people living with Parkinson's disease. Throughout the weekend, participants in all 50 U.S. states, plus Washington D.C. and Puerto Rico, and 18 different countries came together to advance our common goal. Thousands gathered online, tuning in to our live opening ceremony, posting selfies in their t-shirts and sharing what inspires them to #outrunPDHERE (check out a few photo submissions below!). Despite not being able to gather in person, 860 captains recruited friends, family and coworkers to join their teams and compete collectively.
To date, the Virtual 5K/10K has raised over $1.4 million — 100 percent of which will go out our door and directly to critical research programs in need of funding. On behalf of the Foundation and the PD community, we want to congratulate and thank every Virtual 5K/10K participant, especially our top team and individual fundraisers for their exceptional efforts:
Top Team Fundraisers*
Top Individual Fundraisers*
*Fundraising totals as of Sunday, October 4.
We also want to recognize our fastest finishers. With the cancellation of in-person races, this year has been disheartening for our endurance athletes, many of whom have had to modify training schedules and defer entries. We are grateful to our competitive runners for bringing the speed, even from afar! 
Please note: Due to technical limitations, the previously reported results were incomplete. The following lists have been updated accordingly.
Top Female 5K Finishers
Julie Frusciente — 21:35

Dana Lowney — 22:07

Brittany Mossman 

— 23:52

Marietta

Hadjiliadis –

24:

06
Top Male 5K Finishers
Amar Kuchinad — 17:50

David Goode — 18:10

Matthew D'Arcy — 18:42

Stephen McCracken — 19:20
Top Female 10K Finishers
Cindy Anderson — 40:18

Stephanie Korszen 

— 45:26

Amy Fox 

— 45:32

Alexis Shindhelm — 45:33
Top Male 10K Finishers
Brian Seitz 

— 37:18

Luke Smith — 38:08

Matt Irwin — 38:31

Stephen Swank — 39:45
We still have ground to cover. But with the unwavering support of this community, Parkinson's has a finish line HERE.
Find more ways to engage with MJFF and the community this fall through upcoming virtual events and offerings.