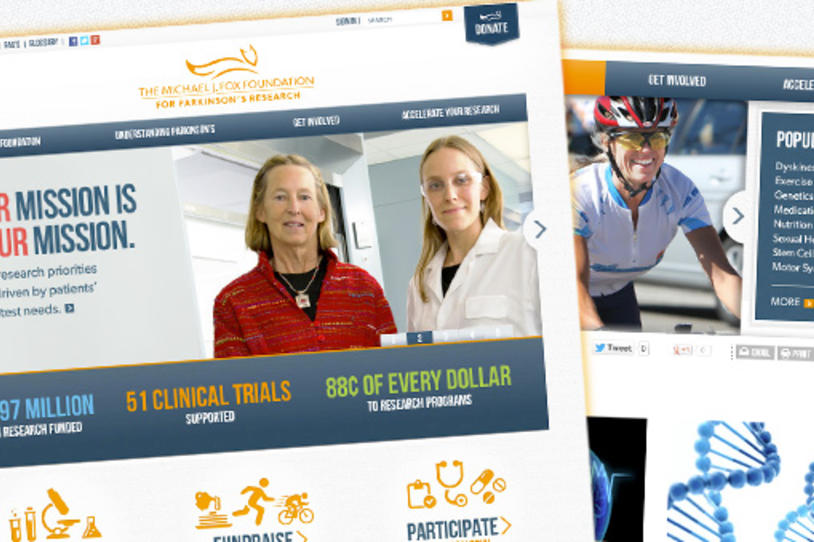 Today we launched a new website for The Michael J. Fox Foundation, our first major website redesign in five years. This new site reflects the growth and evolution of our organization over the past several years, tells the story of who we are today and the progress made in Parkinson's research.  Our goal was to create a site that is informative and easy to navigate. We can't wait to hear what YOU think.
The website redesign was led by the Foundation's Digital Strategy team and the Communications team in collaboration with Ruder Finn Interactive (RFI). Our hope is the new site creates a platform where Parkinson's patients, caregivers, supporters and researchers can come together to learn and get involved in one place. To this end we've brought formerly separate web properties together under the banner of michaeljfox.org — notably Teamfox.org, PDOnlineresearch.org and our blog (newly christened FoxFeed).
Michaeljfox.org is organized around four sections: About the Foundation, Understanding Parkinson's, Get Involved and Accelerate Your Research. However, we've used a rich taxonomy to expose content that may naturally live in one section but is relevant to where the user is within our site. In this way, we are targeting a very organic experience for our users. Some highlights from each section:
About the Foundation
We've used a richer visual experience to outline key strategies that define our problem-solving approach.
Understanding Parkinson's
Our Living with Parkinson's section has grown and now includes dynamic, frequently updated content on the multi-faceted aspects of PD, from the medical to the emotional to the financial, as well as personal stories and profiles of those in our community.
Get Involved
We've made it easier to get involved by combining, in one place, activities for how members of the Parkinson's disease community can donate to advance research, fundraise with Team Fox and participate in clinical trials.
Accelerate Your Research
This new section is a one-stop shop for investigators to apply for funding, search for critical research tools such as reagents and pre-clinical models available at low cost, and learn about our partnering program.
Stay tuned for further posts about michealjfox.org in coming days. In the meantime, there's much more to discover just a few clicks away. We hope you'll take a look, and be sure to let us know what you think in the comments!