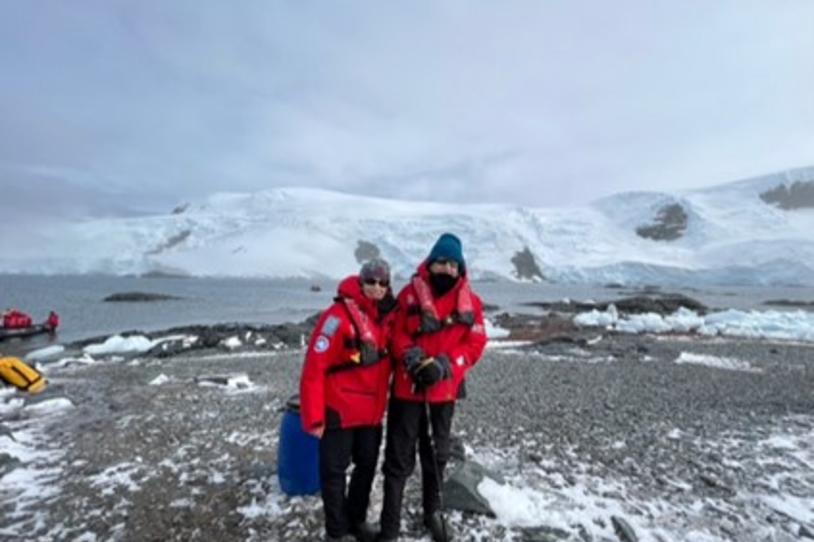 My husband, Sid, father of three, grandfather of five, and I actively biked, hiked and traveled together first as a family, then as empty nesters. Our philosophy was do it while you can, you never know what tomorrow will bring. Up until a few years ago, Sid and I were walking miles through cities around the world. 
Now, after being diagnosed with Parkinson's disease (PD), life is tough for him, for us. Sid has had too many falls, too often, some sending him to the emergency room for stitches and scans for his head. We work with his physician to control his Parkinson's, he goes to physical therapy, and participates in various PD exercise and speech classes. I continue to hope that a new medication or combination of drugs will be developed to better control Sid's PD ups and downs, the "wiggles" and the "freezing." I hope something will soon make life easier and more normal for him, and for me. 
Each time we returned from our travels safely, I would make a donation to an organization in gratitude. Antarctica had been on our bucket list, so in February 2022, after postponing due to COVID-19, we took the risk to make this last big trip possible for him. We flew to Buenos Aires for the beginning of the trip, and then traveled to Ushuaia where we boarded a small ship to cross Drake's Passage to Antarctica. We struggled with whether we should or shouldn't go. Travel in general is not easy now for Sid, and I worried about being responsible for him in a foreign country.  
Even though we had some mishaps and Sid couldn't participate in our hikes, we found a spot where he could sit and observe penguins and seals, and the beautiful scenery, glaciers and icebergs of Antarctica. It was an amazing experience, and despite the challenges, we were glad we made the decision to go. When we made it home safely, we were incredibly grateful. After that trip, I signed up to be a monthly donor to The Michael J. Fox Foundation.  
Your reason for supporting The Michael J. Fox Foundation's mission may differ, but together, we are working toward a world without Parkinson's. Click here to learn more and join our community of monthly donors, The Pipeline, today.