Let's Put an End to Parkinson's. Together.
At The Michael J. Fox Foundation, we're here. Until Parkinson's isn't. Browse this page to get involved, join events and hear stories from the Parkinson's disease (PD) community. Take action this Parkinson's Awareness Month and help us get closer to a cure.
Dear Parkinson's,
Our community is working hard to speed progress toward a cure to stop you. And together, we'll get it done.
Watch this video to meet the patients, families and scientists behind our work.
You can make a difference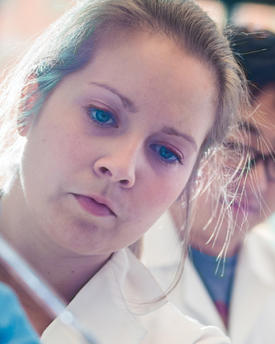 Help Us Put Parkinson's in the Past
We remain steadfast in our goal to end Parkinson's disease, and we're working around the clock to get there. Support our mission to help move groundbreaking research forward for new treatments, and ultimately, a cure.
Help Researchers Learn More about Smell Loss and Brain Health

Ongoing smell loss as we age may be one of the most important signals of risk for brain disease. If you're 60 or older and do not have Parkinson's, you can help critical research exploring this connection. Complete a free scratch-and-sniff test from the convenience of your home.

Recently Diagnosed with Parkinson's? Join Our Study

Our landmark PPMI study is urgently recruiting people diagnosed with Parkinson's in the past two years and not yet taking medication. People at this early stage of disease are in a unique position to help speed new treatments. Call 877-525-PPMI or email joinppmi@michaeljfox.org to join the study.

Become a Parkinson's Policy Advocate

Tell lawmakers what matters most to people and families with Parkinson's by sharing your story. You play a critical role in helping fund research toward a cure and ensuring there are government programs and support for our community.

Parkinson's IQ + You Is Coming to a City Near You

This free event series brings a full day of programming designed for families at every stage of their PD journey. Learn more about managing the disease, the latest research and connect with local resources.

A Country Thing Happened on the Way to Cure Parkinson's

MJFF is heading to Nashville on April 26! Rock out with superstars Little Big Town and Brad Paisley, plus other special guests for an exclusive dinner and country music event.

Will You Lace up with Us?

Join thousands of individuals who are lacing up their sneakers to fundraise and put PD in the past. We're a community coming together for a cure — 100 percent of proceeds go directly to MJFF's high-impact research.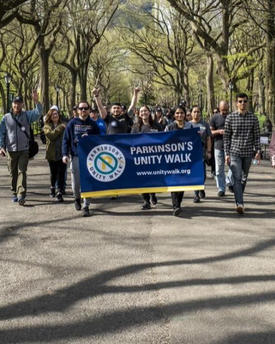 Thank You 2023 Parkinson's Unity Walk Supporters
On April 22, The Michael J. Fox Foundation hosted our first Parkinson's Unity Walk in Central Park welcoming over 3,000 community members and raising over $850,000. You can still make a contribution to the event and have your donation matched, up to $1 million, before Parkinson's Awareness Month ends.
Meet the Community That Will Cure Parkinson's
Resources for Your Journey with Parkinson's
The Foundation has countless resources to help you and your family navigate life with PD. Access these free materials below, or browse our website for additional podcasts, instructional videos and so much more.
A Guide for Navigating Parkinson's

Everyone faces a unique Parkinson's journey. The "Parkinson's 360" guide can help you better understand yours, no matter what stage of Parkinson's you're in. (Accesa nuestra guía en Español.)

Diet and Brain Health

Whether you have Parkinson's, or are concerned you might develop it, food and nutrition play a critical role in brain health. Download a free guide to learn more.

Build an Online Community

The Parkinson's Buddy Network provides a space to share experiences, ask questions and exchange support. Sign up today to build meaningful connections.

Register for Our Monthly Webinar

On the third Thursday of every month at 12 p.m. ET, join our free live webinars to learn about various aspects of living with Parkinson's and our work to speed medical breakthroughs. Stay tuned for a special edition coming this April!
"We've created a spark with the foundation — where if you bring that fuel, that passion we'll add to it. We'll throw a match on it, and we'll get it going."