Understanding Parkinson's
Thinking and Memory Changes in Parkinson's
Thinking and memory changes can be — but aren't always — part of Parkinson's disease. Like all symptoms, if, how and when they happen is different for each person. In some, they are mild. In others, they are significant. The Michael J. Fox Foundation has developed resources to help you learn more and talk about these changes.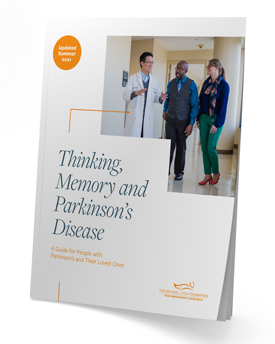 A Guide on Thinking, Memory and Parkinson's Disease
Created in collaboration with people who have Parkinson's disease (PD), their families and expert clinicians, this guide offers:
Information about how thinking and memory can change
Tips to boost brain health and ease symptoms
Strategies to connect with loved ones and care teams
The latest research on thinking, memory and PD
"A Parkinsonian condition I rarely contemplated before now, much less spoke of, is cognitive change: loss of memory, confusion, delusions, and dementia. What am I thinking, and how am I thinking?"
Ask the MD Video
Movement disorder specialist Rachel Dolhun, MD, explains how Parkinson's can affect thinking and memory and what you and your loved ones can do.
Six Tips to Boost Brain Health
Researchers have not yet proven ways to prevent or slow thinking or memory changes. But evidence suggests what's good for your body is good for your brain.
Exercise Regularly

Any exercise is beneficial for general well-being and brain health. Find an exercise you enjoy, feel safe doing and will do regularly.

Connect with Others

Spending time with loved ones and meeting new people not only prevents isolation and loneliness, but also lets you exercise your brain.

Eat a Healthy Diet

A balanced diet may support brain health and provide benefits in PD. Aim to eat a variety of fruits and vegetables; more fish and less red meat; whole grains; and unprocessed, non-sugary foods.

Sleep Well

Make sure you get the right amount of sleep each night. Maximize sleep by keeping a schedule, creating a wind-down routine, limiting daytime naps, and exercising regularly.

Train Your Brain

Your brain is a bit like your muscles; it needs a regular workout to stay in shape. Play "brain games" online or on your smartphone, do a crossword or jigsaw puzzle, learn to speak a second language, take music lessons or start a hobby.

Reduce Stress

Stress can worsen Parkinson's symptoms and cause temporary thinking and memory changes. Identify your stressors and find ways to relieve them. Meditate, practice mindfulness, go for daily walks, or spend time gardening or relaxing in nature. 
More Resources
Watch a Webinar

Parkinson's doctors and a person with Lewy body dementia discuss ways to manage changes and research toward new treatments.

Listen to a Podcast

A person and care partner living with thinking and memory changes share their experience, and Parkinson's experts weigh in.

Read a Blog

Dr. Dolhun answers questions about Lewy body dementia around what it is, how it's related to Parkinson's, how it's treated, and more.
The medical information contained in this article is for general information purposes only. The Michael J. Fox Foundation has a policy of refraining from advocating, endorsing or promoting any drug therapy, course of treatment, or specific company or institution. It is crucial that care and treatment decisions related to Parkinson's disease and any other medical condition be made in consultation with a physician or other qualified medical professional.  
These resources were made possible by Acadia Pharmaceuticals, the maker of Nuplazid (pimavanserin). Partner support allows us to furnish high-quality educational content to the Parkinson's community while maintaining our commitment to allocate donor dollars to high-impact research. The Michael J. Fox Foundation is solely responsible for the content in these resources.